Shocking Christmas Tree Shortage Causes Prices to Spike
Plants and trees that have remained green all year-long have a special meaning to people in the winter. This is why Christmas trees are one of the most recognizable holiday decoration items. Unfortunately, not only will Christmas trees be more expensive this holiday season, but they will be in limited supply.
According to author Billy Perrigo from Money magazine, Christmas tree prices will go up 10% this year. The increase in price is a result of the 2008 great recession. In 2008, Americans were hit with the greatest economic downturn since the Great Depression, and to save money during the holiday season, people stopped buying Christmas trees. This meant less Christmas trees being cut down. Because of low tree sales, the farmers did not have room to plant the new seedlings.
"Between 2010 and 2015, the number of acres growing Christmas trees in Oregon fell from 57,250 to 41.223, federal data show," according to the Los Angeles Times.
On average, Christmas trees take 9 years to reach maturity, and that is when the tree is able to be cut down. In affect, the seedlings not being planted now creates a widespread shortage of Christmas trees.
"They may not have the size they want or they might have to buy a different kind (because) we have a tight market," said Doug Hundley, The National Christmas Tree association spokesman.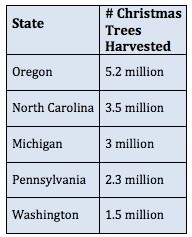 With a lack of availability and a tight market, the price of trees has skyrocketed since 2008. According to USA Today, 27.4 million trees were sold last year at an average price of $74.70. This is a percentage increase of over 30%.
The United States is home to around 15,000 Christmas tree farms. Michigan, Oregon, North Carolina, Pennsylvania, Wisconsin, and Washington are the states that produce the most trees. Not many people would even consider Christmas trees as a potential economic disaster, but unless something happens soon,
local Christmas tree farmers will continue to be negatively impacted more than the big corporations from a financial standpoint, explains author Daniel Moritz-Rabson from Newsweek.
This shortage of Christmas trees has had traditional tree consumers at a loss and hoping for a quick turnaround.