Moonbeams for Sweet Dreams
The community around Royal Oak Beaumont Hospital has come together once again to support the local children's hospital.
For years, residents from the community have gathered around Beaumont for an event put on by the hospital, Moonbeams for Sweet Dreams, to support the pediatric patients who have to stay at the hospital over the Christmas holiday.
At 8 p.m. sharp every night in the month of December, the community gathers in the parking lot of the hospital to shine their flashlights into the rooms of the pediatric patients. The event lasts around five to ten minutes. Many of these children have no choice but to stay alone overnight, as their parents go home and sleep. However, this small act of compassion, which the community puts forth towards these children dramatically brightens up their spirits for the holidays.
"It is just amazing how much the community comes together to show support and compassion for these children fighting some of the toughest battles that they will fight in their life. It is important for them to know that they are not alone, especially through the holiday season," said senior Emma Curran.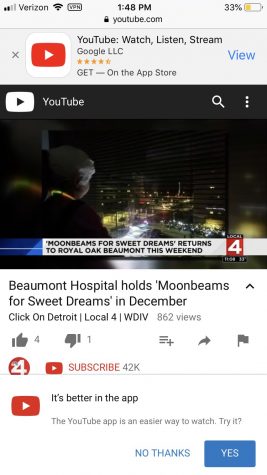 It is imperative that these children feel supported in some of the toughest times of their lives. By promoting this small act of compassion towards these young children, it provides them a sense of hope that they need to continue fighting their individual battles.
"Actions like these take such little effort, but make the world of difference, especially in impressionable children like these. The hospital is not necessarily the most exciting place. In doing this every night, it gives the children something to look forward to," said senior Kaitlyn Petrosky.
The community surrounding Royal Oak Beaumont hospital has shown what it is like to have a true sense of holiday spirit. The compassion and true love shown towards these children truly make their holiday season the best it can possible be, despite their circumstances.