Brain Drain? The Academic Grind at Adams Never Stops
Powerpoints, reading, listening, lecturing. High school students perish from working long exhausting days. Some classes are more draining than others and the harder classes take a mental toll on the student's minds. Some students are unable to enjoy extracurriculars or activities they enjoy because of homework. Depriving students of enjoyment and time to relax seems a bit hostile, right? Students at Adams High School share their thoughts on difficult classes they offer and the amount of work they entail.
Sophomore Kristen Dsouza takes multiple advanced classes including Chemistry, Honors Precalc, AP US History, and Honors LA 10. With all of these challenging courses on her plate, she finds herself having to cope with the pressure of these difficult classes.
"I find my math class most difficult because I have a more organic thought process, so I have trouble connecting and applying the rules of math. To avoid stressing about math, I try to never cram last-minute on the day of the test. For me, it only makes me nervous and overwhelmed," said Dsouza.
Junior Hala Khasawneh shares her class schedule, which class she finds most difficult, and how she prevents from stress.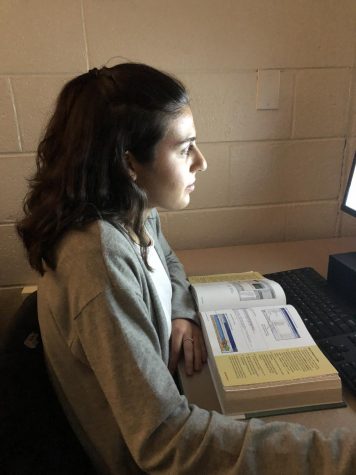 "I am currently in Precalculus, Chemistry, AP government, Spanish 4, AP Language and Composition, and Anatomy/Physiology. I find Precalculus to be the most difficult because the workload is daunting. There are 1-2 quizzes every week, homework every night, and the tests are lengthy. I try to manage my time and not procrastinate to reduce stress. When I do get stressed; however, I usually take a break from my school work or I create a schedule designating a certain amount of time to each class," said Khasawneh.
Khasawneh clearly has quite a bit to focus on with all her difficult courses. Avoiding stress is almost inevitable. Sophomore Isabella Davies has a similar viewpoint. Davies was in Spanish II last year, and felt the pressure of a rigorous curriculum that included public speaking a foreign tongue.
"Speaking Spanish in front of the class was nerve racking for me. When I'm finished presenting a project, or whatever the cause of stress may be, is done and over with, a weight is lifted off my chest. I can reduce stress by making notecards ahead of time and studying those," said Davies.
Although students are stressed with regular and AP classes, they are able to overcome the difficulties with necessary preparations. They are really persistent workers day in and day out. Students at Adams are pushed harder for the better, with success just on the horizon.