Adams Basketball is Back
New beginnings are generally exciting times, but most beginnings are accompanied by challenges. For the Adams varsity basketball program, expectations remain high despite having a young team that lost the majority of its talent from the 2020 graduating class.
The Highlanders basketball team underwent some reconstruction during this past off-season. Senior Ben Chermside feels he has a lot of weight on his shoulders due to being one of three seniors on the team. He knows he can lead the Highlanders to victory because of the way he is pushing his teammates to be better, something he claims can be done by increasing the team's energy.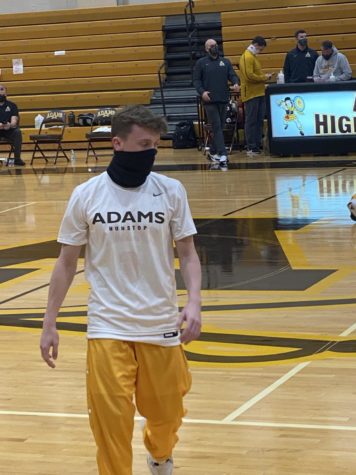 "We need to work on picking up our teammates and being a better team as a whole. The energy needs to be through the roof, and we need as much cheering as we can get. With no student section, it is tough to get the team going, but I do my best job to get the boys going. This year will be exciting, and I am glad we got to have a season." 
Adams faced off against Milford in their first home game and won 64-35. The Highlanders had five double-digit scorers and junior Jacob Durand led the Highlanders with 13 points. Although the team played well, many players believe that there is plenty of work still to be done. One of these players, Andrew Brown, said that the team can improve even more when they begin to drive to the rim and hit open shots.
"I am happy we played so well in our first game at home. It was a fun game with contributions across the board. We need to play this good every game, so we can win." 
For the Highlanders, this season, the atmosphere and culture surrounding the players and coaches feels different. Coming off a 2019-2020 season in which the Highlanders struggled with growing pains, scoring, and team chemistry, the 2021 campaign is one that seems primed for explosive play and offensive firepower.