Students Working Hard…Outside of School
For high school students on the verge of becoming adults and living on their own, securing an after school or weekend job is an excellent way to learn responsibility and get prepared for the future. Although balancing school work and real work can become difficult, getting a job teaches kids the skills necessary for communication, reasoning, and achievement.
Some students who choose to work in their free time feel that having a part-time job has actually improved their ability to manage time. Through working and learning responsibility, focusing skills can potentially progress drastically.
"I work at DTE in the summer and being part of a hard-working crew has taught me organization," said junior Michael Toeppner.
With a job that only requires a couple of hours to complete, simultaneously keeping up on homework is no difficult task. On the other hand, other positions can be more time consuming. With a job involving coaching or teaching an active sport, working can be both physically and mentally exhausting.                                                                                            
"I love having the opportunity to be able to teach kids new skills at my job at Rochester Hills Stables, but it makes it hard for me to get things done on the days I have to work because I am so tired afterwards," said junior Maddie Pape.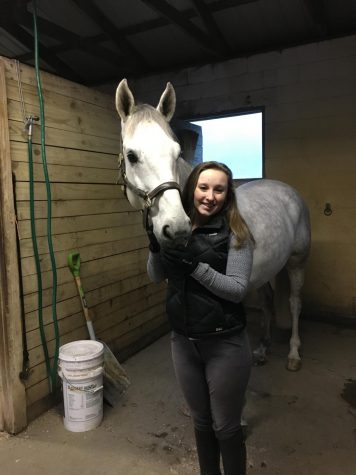 For kids like Pape who take time out of their already busy days to teach something they love, the time sacrifice is worth it. Learning to make sacrifices for an ultimately good result teaches young people about hard work and perseverance.
On another note, some students who work on the weekends or after school have found that their grades have actually improved. According to Amy Laskowski at Boston University, "The Journal of Population Economics reports that students who work part-time have slightly higher grade point averages than students who don't work." Because jobs often require pristine focus and attention skills, students who work often get into the habit of staying focused on the task at hand.
"Working in landscaping has helped me become more motivated to do better in everything I do and find new ways of getting things done," said junior Kevin Lopez.
Improving attention spans is one of the many valuable lessons that will come from getting a job in a field as enriching as elderly care. Among these lessons, the ability to solve problems is also vital. When it comes to making quick and important decisions, practice makes perfect. For junior Emma Brown who works at Sherwood Forest Garden Center, there is a constant need for knowledge and problem-solving skills.
"Not only has working taught me valuable organization skills but also the ability to be put on the spot and solve different issues," said Brown.
When people have questions, whether they are about something small or something of significant importance, having the answers comes with experience. Experiencing different fields of work will not only give students knowledge on different subjects, but it will also help kids figure out what they are interested in and what they are passionate about.
Obtaining a part-time job is an exemplary way to display maturity. Not only are students with jobs making their own money, but they are also giving up time they could be using for leisurely activities. Time management, organization, and leadership are all crucial skills for lifetime prosperity.  At Adams High School, hard working kids who value these concepts are never hard to come by.