Nick Matthews: Student Spotlight
Adams Highlanders are known to take what they learn in their everyday classroom environments to the next level, and senior Nick Matthews is no stranger to this phenomenon.
It all began Matthews' freshman year, when he was introduced to Adams DECA. It was through the business club and business classes such as "Business Functions and Operations" that Matthews fell in love with marketing, management and entrepreneurship.
His newfound interest in the business world inspired him to become directly involved in the leadership of Adams DECA. Not only was Matthews an active executive council officer for two years, but he also contributed to chapter public relations, and he created and executed club fundraisers. His accomplishments do not stop there, however. Matthews was a state level alternate for DECA's Principles of Marketing and Marketing Communications events, and a state champion and international qualifier for the Sports and Entertainment Promotional Plan event.
Matthews' willpower drove him to aim higher. Under the mentoring of class of 2018 Adams alumni and former Michigan DECA state officer Ahad Khan, Matthews took leadership to a statewide level. In his third year of high school, Matthews decided to run for Michigan DECA's State Office.
"Being able to lead the chapter as a member of the executive council helped me in discovering my passion for leading. I wanted to bring my ideas for bettering Michigan DECA to fruition. After working with [Khan] directly on his campaign and seeing his experience as a state officer, I knew it was something I wanted to pursue," said Matthews.
So Matthews set out on a mission. Through simple networking and progressively building a presence on social media, he gained the attention of Michigan DECA officials across the state. After applying for and passing the required officer candidate screening, and voicing his campaign goals for the state office, Matthews' promotional booth and speech at Michigan DECA's State Career Development conference proved to be the most effective. In turn, Matthews was elected to the Michigan DECA Vice President of Community Service position.
However, Matthews was not completely satisfied. Currently, the entrepreneur-in-the-making is working on becoming a part of DECA's National Executive Office. DECA Chartered Associations are split into four regions and Michigan DECA, along with twelve other state associations, is part of the central region. Matthews aims to lead the association officers of the central region states in bettering their organizations and taking leadership to the next level by implementing ideas that have yet to be explored.
"I am keen on the opportunity I am currently working on fundraising for my campaign at the International Career Development Conference in Atlanta, Georgia this April. I have quite a bit of work ahead of me, but I cannot wait to see how it all plays out," said Matthews.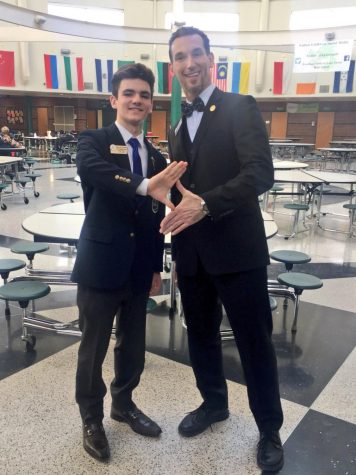 Twitter has become a big part of Matthews' life in the past year. He uses the online news and social networking service to expand his network. Matthews currently has 1,275 followers (and counting) on Twitter. The social media platform allows him to communicate and keep in touch with those he meets along his journey, whether they be from across the state, across the country, or across the globe.
"In career paths, and business especially, the connections and network you build for yourself are crucial to your success; whether it's finding a new job or partnership opportunities, or even just meeting new people," said Matthews.
The social media icon spends his time online posting relevant DECA content. This includes promoting Michigan DECA as an organization, keeping his followers up to date on the state officer agenda, or simply creating entertaining posts about DECA.
So what is next for this young emerging leader? If elected as the Central Region Vice President, Matthews' term would carry over into his first year of college. This means he will be traveling nationwide hosting workshops, giving keynote addresses, and helping out with other central region associations that request to have Matthews at their conferences… all while enrolled in college classes.
"I plan on obtaining a degree in some sort of business major, but business is so broad that I am undecided on which major that may be at this time. Overall my experience in DECA has allowed me to find my passions and pursue them at a young age. I cannot wait to see what the future has in store," said Matthews.