Student Spotlight: Kate Vibert
Student Spotlight: Kate Vibert
The alarm annoyingly buzzes at 6 a.m., every  Monday through Sunday. No matter how she feels on any particular morning, the second the day starts, every action taken will affect her.
However, the moment she enters the doors of what she calls her "sanctuary", every pinch of pressure or anxiety that she may have previously sensed, somehow disappears.  She is in the zone. She is practicing her skill. It is not only a skill; it is a lifestyle.
Adams High School's very own senior,  Kate Vibert, has a passion that requires determination and dedication. She inspires the student body with a positive outlook and a reminder that hard work truly does pay off. From being a successful gymnast to now excelling in competitive weightlifting, Vibert takes part in Olympic training in the hopes of achieving American records.  
Q: How did you get started weightlifting?
KV: "When I had a career-ending injury in gymnastics, I had to find a way to recover physically, mentally, and emotionally. With a tear in my ACL, my options were very limited. Eventually, my friend and I decided to join a strength and conditioning program called Crossfit. I fell in love with it. I started to compete because I knew this could become my new sport. I  realized it was not easy, but I started working at it every day to improve my form, my strength and all the aspects of lifting. As my love for this training flourished, I sought out a weightlifting coach that could assist me even more. He encouraged me to start competing as a weightlifter. When I placed third at youth nationals for lifting, I decided to quit the crossfit program and become a full time weightlifter with advanced training."
Q: Where does your motivation come from?
KV: "My motivation really just comes from wanting to better myself as a person. Personally, I like to feel strong and independent. After my injury, I was able to accomplish that by finding a new passion and feeling amazing every day after a workout. Weightlifting gives me an outlet for my all around stress and also a way for me to set, work [toward] and eventually meet my goals. Right now, I am driven by my goal of breaking several American  records and representing the USA in the Olympics."
Q:What workout routine has worked best for you?
KV: "So, I have to workout in the evening if I want to have a good workout, because quite honestly I am a zombie in the mornings. I always have to make sure my diet complements my workouts as well. Stretching and a good warmup for about 15 minutes before each training session is vital for my workouts. The actual workout usually consists of an hour of power training, and an hour of strength training for a total of 2-3 hours depending on the day. I typically only take one active rest day a week, allowing my body to recover."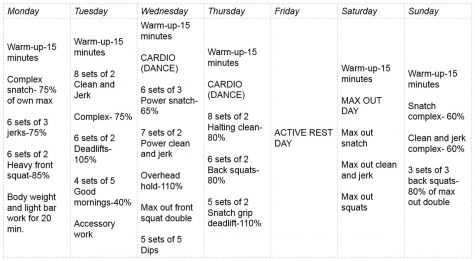 KV: "My favorite three are the snatch, clean and jerk and back squats. The snatch and clean and jerk are the lifts I compete in. Everything I work for leads up to those specific lifts. I like back squats because I am good at them, and everyone loves what they are good at. I also like being able to lift heavy weight because I usually can lift more than most guys, that is also a good feeling."Q: If you had to pick only 3 exercises you would prefer to do, what would they be and why?
Q: What is your personal daily nutrition like?
KV: "My calorie intake ranges between 1600-2900 depending on whether I am cutting, bulking or maintaining. I try to eat 30 grams of protein, 5 meals a day. I eat the majority of my carbs before my workout so I can burn it off during my workout, and I eat my fats well in advance to my workout. I splurge probably once every two or three weeks; treat yourself often. Fun fact: I eat a pint of Halo Top ice cream every day, my favorite flavor is red velvet or birthday cake."
Q: What are your plans for college and how do they affect your weightlifting career?
KV: "In college, I am hoping to get accepted into either Hillsdale College or the University of Michigan. In that case, I will be training by myself in the weight room and hopefully finding a training partner who shares the same interests as I do while I attend one of those colleges. If perhaps, those plans do not work out, my training will continue as it is while I study at Oakland University. I will strive to be a full time student and full time athlete, but academics always come first to me."
Q: Specifically, what are your plans for weightlifting in the future?  
KV: "As for weightlifting, I hope to continue working just as hard as I am now. I hope to just allow fate carry out my successes in the future. I do love what i do, and I will continue to train for as long as I still love it. Some goals would be to break youth and junior American records over the next year, and hopefully have the opportunity to represent the USA at Junior Worlds summer of 2017. In all honesty, I just want to have fun and do the best  that I can. If my Olympic dreams come true, that would be the greatest and happiest achievement of my life."
Kate solidifies the famous aphorism "You can achieve whatever you put your mind to".  She reminds students that, although life may have its ups and downs, individuals must work for what they want most in their lives. She presents herself as an example of an individual who maintains a positive attitude every day.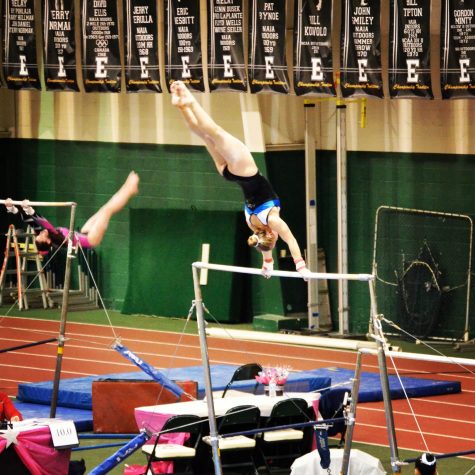 Senior Kate Vibert competing in gymnastics before her ACL injury.