Student Spotlight: Hala Khasawneh
Hala Khasawneh, a junior at Rochester Adams High School, is doing great things to better herself and the community.
Khasawneh is vice President of the Young Feminists' Council and is a member of the National Honors Society. Even with a hectic schedule, she still brings her "A" game. Khasawneh answers some questions about herself to give readers an inside look on how she remains so successful.
Is it difficult balancing school and extracurriculars?
"Most of the time no, I just have to write a schedule for myself and then I'm able to get things done in a reasonable amount of time," said Khasawneh.
What is your favorite class and why?
"My favorite class is AP Lang because we do so many different types of writing, from rhetorical analysis to argumentative. Also Mrs. Bolinger is awesome," said Khasawneh.
What is the YFC and what does it mean to be vice president?
"The YFC stands for Young Feminists' Council. The group that I co-run in Rochester is actually a chapter of the NOW, (The National Organization for Women). We're a group of mainly high schoolers that mainly focus on educating our peers on what's going on in the modern world of feminism. We also want to inspire confidence in women in our community. To me being Vice President means making it my responsibility to help Grace Haubert, President, get our message across. I also oversee and format our publication, lead meetings, and inform officers of their duties," said Khasawneh.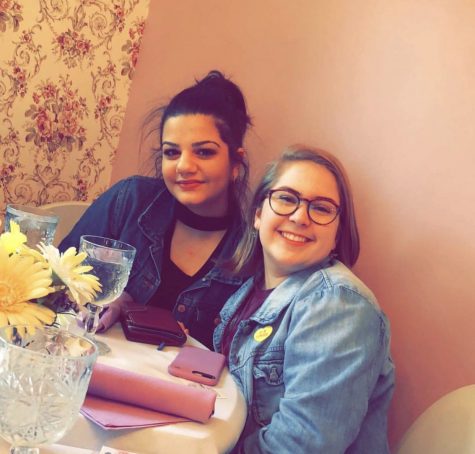 Who is your idol and why?
"My biggest idol is my mother because she is incredibly intelligent and never gives up no matter what," said Khasawneh.
What are some fun facts about yourself?
"I like to read, hang out with my friends, and watch One Tree Hill on Netflix. I am Bilingual- I speak both English and Arabic, and I have always wanted to live in New York," said Khasawneh.
What are your goals and plan for the future?
"I would like to attend either the University of Michigan or Michigan State University to study pre-dental," said Khasawneh.
Although Khasawneh endures an academically driven lifestyle, she knows how to have fun and create a healthy balance between school and fun as she leads the YFC organization in Rochester. Hopefully all this hard work will pay off and she will be able to live out her dreams in New York City making a difference.