Student Spotlight: Grace Antonelli
As of February 12, 2019, senior Grace Antonelli signed to be apart of the 2019-2020 Division One Oakland University Track and Field team. After she was injured playing soccer, she decided to try something new, and when she took this leap of faith she became one of the most successful members of the Rochester Adams Shot Put and Discus team. After throwing at exceptional lengths in her very first season, she decided she had the potential to further her academic and athletic career in college.
Q: What made you decide to start doing shot put and discus?
"After I got severely injured I was unable to play soccer or volleyball, and I wanted to find something new to help keep me active. Since I was a junior, it would be hard to start a new sport, but a close friend of mine recommend doing discus."
Q: Who were your biggest influences in pursuing this sport?
"My teammates and coaches have had a huge impact on my success and my attitude towards the sport. I wouldn't be where I am without the support of my parents and my friends."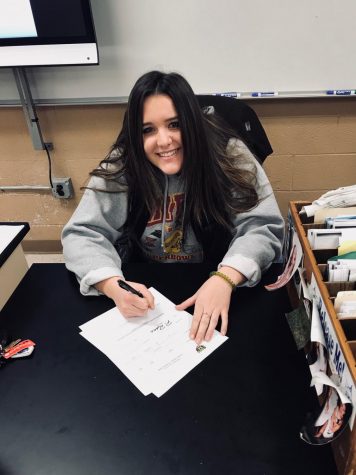 Q: What are some of your biggest accomplishments in high school field events?
"I made varsity my first year and I qualified for leagues, regionals, and counties. For indoor season I qualified for states and am hoping to do even better in this upcoming season."
Q: What has been your favorite thing about this sport?
"I love how it is an individual sport, but at the same time, your teammates are what motivate you to do better. I also like how it is different from every other sport, the mechanics of it, and the complexity of it. Most people do not understand how hard it really is to get every single movement absolutely perfect."
Q: What are you the most excited about as you enter this new chapter of your life?
"I am excited about the opportunity and the room I have for improvement. I have been working twice a week with my trainer and three days a week on my own, so I am anxious to see where my marks are at in this upcoming season."
As Grace heads into her final high school season, big things are in her future. Recruited onto a college team after just one season of the sport, Grace has even bigger achievements on the horizon, and her potential is limitless.