Student Spotlight: Claire Donohoe
Rochester Adams offers dozens of extracurricular activities for students. One student in particular is very involved in the school, and is willing to provide an inside look on her life and what she does for the school community. Sophomore Claire Donohoe is quite the scholar with the rigorous advanced classes she takes. Her schedule is top heavy with sports, theater, and even Student Council.
Q: What extracurricular activities do you do?
A: I am in involved in Student Council, theater, I run cross country, and play soccer for Adams. I used of play club soccer, but now I just play for the school. Outside of Adams I like to write, but most of my activities are school based. Some people think doing a lot of extracurriculars is stressful, but I like to be busy and fill up my time with things I enjoy.
Q: What does Student Council do, and what type of stuff are you working on for theater right now?
A: Student Council is broken up into committees. Take Homecoming for example, there is a ticket committee, a parade committee, etc. I was on the ticket committee. We designed and sold tickets. Now we are starting the Can Drive, and more specifically for the Can Drive, I am on the accounting committee, so I count how much money is raised. I also share morning announcements. I write them, film, and edit them. When it comes to Student Council, I enjoy volunteering for lots of jobs, because I'd rather have too much to do than not enough. In theater we are currently working on the show Peter and The StarCatcher. Opening night is at the end of October. The show is a prequel to Peter Pan. So the show basically explains how Peter Pan became magical. The story explains how he grew up in an orphanage, and meets me, Molly, who is Wendy's mom. I am the one who introduces him to the magic of stardust.
Q: How is it to balance all these activities and juggle school work?
A: I'm not going to lie, it can be stressful. I do my homework at lunch a lot of the time. I am a list maker. If I know I have a lot going on, I'll start making a list in first hour to gather my thoughts. It sounds corny, but I just take it day by day. Especially this month for the play, I started using voice memos so I could multitask, while listening to the script. In class I could be doing homework, but also listening to lines in the play with my earbuds.
Q: Would you say the life you are enduring is an accurate representation of a high schooler at Adams?
A: Yes, because I think a lot of kids at Adams are super busy. It's hard to not be involved in the school. The school advertises the wide variety of clubs they offer. Teachers and administration make sure to promote clubs too, which is a big part of getting involved. I think it is easy to be really busy. I could be busier…I could be less busy…so yeah I think I am pretty average.
Q: What is your favorite part of the day and why?
A: My favorite part of my day is after school, when I go to the locker room for cross country because I am still at school with all my friends, but we can talk about anything. We don't have to talk about class, but in the locker room it's an open space. Being in a lot of activities provides me with a lot of social opportunity, and I am lucky that people are welcoming and it is super easy to meet people. I enjoy coming to school because of my friends. A lot of people would say the best of their day has nothing to do with school, but for me it is the opposite.
Q: Who is someone you look up to?
A: I look up to my grandma because she doles out endless comfort. Even if she is having a bad day, she still makes sure you are okay. Which is a really amazing quality, and I don't think a lot of people can do that. She is a strong woman.
Q: On days you are not run to the bone, what do you choose to do?
A: I wish my answer could be something cute, but to be honest, I just watch Youtube. I also really like watching Criminal Minds and eating Breyers chocolate chip ice cream. I like Emma Chamberlain, Shane Dawson. I get sucked into clickbait.
Q: What do you truly value in life? At the end of the day what keeps you motivated?
A: My personal mantra for staying motivated is "I have it good," so I should do all in my power to rise above and conquer. Like for running, if I feel like slowing down, I just think about how I'm healthy and I got this! There's no reason to not try your best. My family is what I value the most. I have a big family and I'm the oldest of my siblings and of my cousins. I am lucky they live nearby. I see them all the time and they are a big part of my life. When I have a lot going on, I just think of them. My grandparents and parents are such a strong support system. You only have 4 years of high school, so I'm just trying to get the most out of the remaining time I have with them until college. I also have 3 younger brothers; we get along pretty well, and we are so close. I've noticed my friends and their siblings just don't have the kind of relationship my brothers and I have.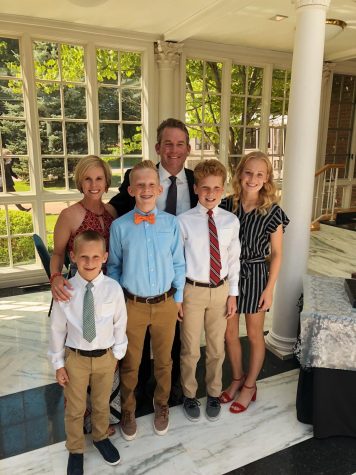 Q: Would you say your writing influences your behavior or influences others?
A: Yes, so right now I am working on a series called "Chatty Cathy", and each chapter is a conversation about current real life issues. The reason I write in just dialogue is so that anyone who reads it, can either pick a side, or pick a person to relate too, or they can read it without bias. There is a lot of room for interpretation with my writing and it really makes the readers think about their personal beliefs and views. Sometimes people will come up to me and say they read one of my pieces, and just knowing that they read it, is super dope.
Outside of school Donohue uses written literature as a form of self expression and a way to get other students thinking. Her ambition and drive makes her a star asset to the student body at Adams. It is students like her that make a true difference at Adams High School. Claire Donohoe is going places.