Spring Break Dos and Don'ts
Booking flights, finding the best resort, calling in reservations, soaking up all the sun possible, and capturing an Insta-worthy picture; spring break is obviously hectic to navigate. All of the planning that is needed when going on a trip makes vacation seem more like work. For people who tend to get extra worried when planning vacation, here are some dos and don'ts for how to avoid turning vacations into chaos.
DON'T forget to set the alarm
Nothing is worse than hearing the aggravating sound of an alarm in the morning. However, is being late or missing out on lively activities any better? Definitely not. Whether it is waking up early for a flight or rising early to start a fun-filled day, traveling and adventuring is much more exhilarating than sleeping. Besides, people can sleep anytime, but not when in a breathtaking destination for only one week. Whatever the spring break plan may be, do not waste it away underneath covers. Instead, spend it soaking up the sun.
DON'T forget the camera
"Pics or it didn't happen" is a classic line that is true in all cases, especially spring break. During vacation, taking pictures is a must. Tourists can capture indescribable moments of laughter, scenery, food, drinks, and good times. Spring break pictures are mementos that last a lifetime and make for the perfect Instagram posts. This holiday, snap all the pictures possible to make friends envy an amazing trip and to never lose sight of the memories made.
DON'T forget sunscreen
Sunscreen: the most important spring break essential, yet also the most forgotten. While the desire to get the perfect tan or excitement can often take over logic, many spring breakers tend to completely disregard the use of this necessity. Often times, individuals return from vacation looking as red as a tomato, and are not only humiliated by their brutal burn, but are also in quite a bit of pain. Furthermore, who wants to get burnt the first day at the beach and spend the rest of their days hiding from the sun?
"My burn lasted a really long time. When I got back everyone called me burnt toast for a solid two weeks. Going on vacation is fun and all but when you burn like me, it's extremely painful," said junior Grace Antonelli.
When it comes down to it, taking five minutes out of tanning to apply sunscreen is much better than going back to school looking like a lobster.
DO plan ahead
Between saving money and time, it is a no brainer to plan spring break far enough in advance. For instance, booking a hotel and flight about six to ten months in advance is a power move. Critics who question this strategy may ask, why so early? By scheduling a trip months before, a smart planner will save hundreds of dollars that can be used towards more exciting activities for one's vacation! Along with that, making a schedule for each day is another genius idea for anyone who does not want to waste a second of fun. This releases the stress of finding excursions to do, places to shop, and quality restaurants to dine at.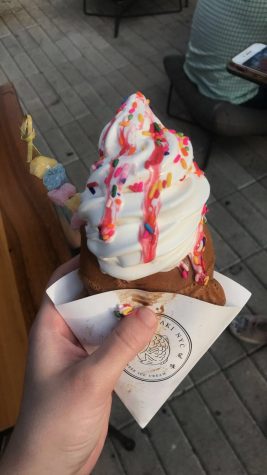 "Planning ahead is needed for spring break to be prepared for the trip. My family books our vacation far in advance and makes sure we have fun events planned and places to go for dinner. We also get ready by packing about week before to make sure we are ready to leave," said senior Ben Borschke.
Clearly, being ahead of the game for spring break will assure a stress free experience.
DO put the phone down
Which is better, staring at a bright screen or staring at the bright scenery of a tropical paradise? During spring break, or any vacation, it is important to disconnect and put the phone down as much as possible. Although it may be hard to not want to show off the indescribable getaway being attended, spring breakers should live in the moment and not through their iPhones. After all, people can go on their phones anytime they want, so save it for home and embrace the once in a lifetime experience at hand.
DO try something new
Spring break is the time when memories are made, so why make them ordinary? No matter the destination, there is always something new and adventurous available. From fresh seafood, to jet skiing on teal blue waters, to swimming with aquatic creatures, and sampling exotic fruits, there are endless opportunities when in paradise. Whatever the plan for spring break may be, make new experiences the top priority.
By following these 'dos' and 'don'ts', it is nearly impossible not to have an unforgettable spring break. Vacation should not be a time of stress, it should be a time of relaxation and adventures. Throw on the shades and siesta while you fiesta.