Skiing to First Place
Racing to top of the pack is Adam's own Kaylee Richardson. Richardson has qualified for the Junior Ski Olympics race for the past two years. She placed third in the Giant Slalom event in 2016 out of hundreds of great skiers like her. Since the age of two, Richardson has lived her dream and love for the sport of skiing, hoping this year to qualify for the third year in a row this February.
The Junior Ski Olympics is made up of teens from all over the United States who compete against each other to qualify for the Junior Olympics team. For kids who qualify for their region, they have the opportunity to race alongside other competitors who have qualified. The local regional location for this is set to be in Marquette, Michigan, at the end of February. The competition for the teens who qualified is held in Colorado for one week in March. The age groups are U16, which is fourteen and fifteen year olds, and U14 which is twelve and thirteen year olds.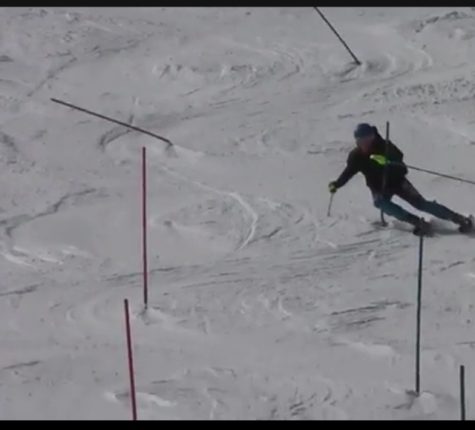 "I am on the hill almost everyday. I also got to go to Oregon for some time during the summer to train, and I go to Colorado the week of thanksgiving," said Richardson.
To stay fit and ready to ski in the winter, Richardson spends her summers doing crossfit. When the cold weather approaches she is ready to ski, and she  tries to go skiing almost everyday.
"My favorite memory is skiing through the finish line at Junior Olympics and hearing them announce that I was in third place," said Richardson.
She has made so many memories with her team, having to spend several hours a week together, and building unforgettable relationships with them. She feels inspired to ski because she feels that it takes her away from the world.
"My goal is to someday make it to the US ski team and make a career out of my sport," said Richardson.
The amount of passion Richardson has for this sport is almost unequaled as she continues to spend hours every day training and trying to beat her best times. None of this could have been possible without the support from her family and friends encouraging her and cheering her on during every race.  
"My biggest supporters are probably my parents and my brother who is also my coach," said Richardson.
Richardson finds so much happiness in what she does and has fun doing it. Skiing can be a very dangerous sport, but to her it is worth the risk. The way she feels when she is skiing, and when she accomplishes something new, is worth the risk.
"Skiing brings me a joy that ultimately nothing else can," said Richardson.