Porter Has Big Shoes to Fill
With the recent departure of the beloved Mr. Michael Binge, the administration at Adams High School had a large task at hand: Finding a new teacher to fill his shoes.
Thankfully, Mr. Pasquale Cusumano, along with the help of his administration and faculty, was able to find exactly what the students and staff were in need of here. The new man for the job is Mr. Ryan Porter.
Joe Riera: Where did you go to college?
Mr. Porter: Just down the road here at Rochester College. In the community.
Joe Riera: How long have you been teaching for?
Mr. Porter: Not long, I did my student teaching with Mr. Hickey last year. I was working at Oakland Christian this year up until I got this opportunity, so not long, under a year.
Joe Riera: What are you most looking forward to at Adams?
Mr. Porter: Just being a part of the community. I've really fallen in love with this school and the spirit here last year when I was student teaching. I got to know a lot of the staff and a lot of my colleges and a lot of the students. I'm honestly looking forward to just jumping back into that and being a part of that community of growth, and helping kids achieve their goals.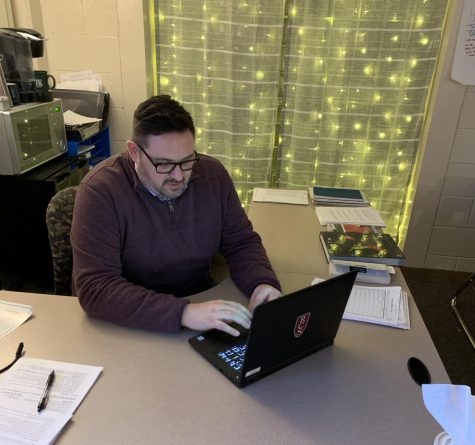 Joe Riera: What classes can students expect you to be teaching at Adams in the future?
Mr. Porter: Language Arts for sure. I know next semester I am teaching Shakespeare, 20th Century World Lit., and Composition 12.
Joe Riera: What do you like to do in your free time?
Mr. Porter: I read, play golf, play some video games, spend time with my family. Pretty typical stuff.
Joe Riera: Do you have any favorite sports? Specific Teams?
Mr. Porter: It's changed recently but my favorite sport is baseball. I like the Tigers and the Astros. I like how the astros built their team. Do you know anything about Sabermetrics? Have you ever seen the movie Moneyball?
Joe Riera: No, isn't that with Brad Pitt?
Mr. Porter: Yes, it's all about the way the Oakland A's used math and hidden numbers to create a competitive advantage. It's a great movie.
Joe Riera: Any favorite foods?
Mr. Porter: Thai Food. Slam Dunk.
Joe Riera: Is there a best Thai place around the area?
Mr. Porter: I actually like the Thai Inn, right in Rochester here by Miguel's Cantina.
Joe Riera: What is your favorite Artist and Song?
Mr. Porter: See the thing is, I have five favorite everythings.
Joe Riera: Give me a top three then.
Mr. Porter: Okay give me a second…. When I Paint my Masterpiece by Bob Dylan, anything by Jimi Hendrix, and Luckenbach, Texas.
Joe Riera: Do you have a favorite movie?
Mr. Porter: My Left Foot. It's a classic for me.
Joe Riera: To wrap things up, what are your goals for 2019, and for Adams in general?
Mr. Porter: To get to know people, immerse myself in the culture, and help kids as much as I can achieve their goals.
Mr. Porter is clearly excited for his time here at Adams. He is kindhearted and truly wants to become a part of this Adams community. He's a great addition to the teaching staff and is yet another helpful, friendly face that is here to help students learn.