Nine Steps to Last Minute Christmas Shopping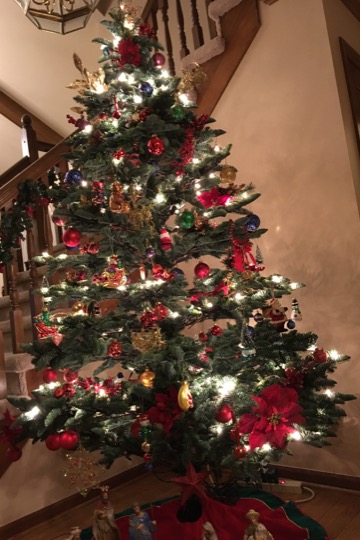 'Twas the week before Christmas, when all through the house, not a present was stirring, not even a blouse. The stockings were hung by the chimney with care, in hopes that they'd be filled with new underwear.
Americans are infamous for their tendency to procrastinate. This includes the prolonged and stressful process of Christmas shopping. Ideally, a month's worth of shopping is essential to accomplishing the perfect Christmas. Many, however, tend to leave their shopping until the last possible second.
"Last minute Christmas shopping at malls are always so hectic and stressful," said senior Scarlet Hutto.
So, the real question is, how does one survive last minute Christmas shopping?
STEP ONE: Critical thinking. The road to success begins with exceptional brainstorming. Start by creating a list of top priorities. The most important people in one's life who deserve presents should be on this list. That way, no one is accidentally glanced over, and the list is narrowed down to a reasonable number of people. This enables individuals to be strategic with time and money while shopping because there has been a determined game plan for each item and who it is going to.
STEP TWO: Budgeting! Set a budget for each person, and write it down next to each name on the list. It is easy to enter the mall and see temptations that, of course, would make "the perfect gift". Credit card companies thrive during the holiday season because of the number of people maxing out their cards. No one wants to be penniless after Christmas, so spend wisely.
STEP THREE: Hit the online shopping sites instead to avoid the chaos at the mall.
"Expect to spend an hour just looking for a parking spot if you're last minute Christmas shopping at Somerset mall," advised senior Paige Klott.
Many online sites offer free shipping around this time of year and will ship straight to homes in two to three days, leaving very little leeway, maybe a couple hours, between the time the package arrives and the moment the present needs to be wrapped up and gifted.
"The anxiety levels about my last- minute online shopping are at an all time high this week because I do not know if they will make it in time for Christmas," said senior Katie Burns.
Online shopping will also relieve the impulse of purchasing more than necessary because there aren't the tempting distractions as you walk through the store to the checkout line.
STEP FOUR: If a trip to the mall is what it takes, go to large department stores, rather than making trips to several stores, where all Christmas shopping can be completed in one place to save time.
STEP FIVE: Divide and conquer. Have a few friends who are similar, but don't get to see each other very often? Search for unique sets with several different products arranged within them. These could include a Bath and Body Works lotion set, Victoria Secret Perfume sets, The Art of Shaving kit, and maybe even cosmetic kits from Sephora. These items are easy to buy for most and all types of friends, because who doesn't love a gift set with a variety pack of products?
STEP SIX: Gift cards. They may be looked at as impersonal, but are they really? If someone has a favorite store, allowing him or her to spend money on what they truly want, rather than guessing what they may like, is possibly the best gift ever. To add a little extra to it, add a cute picture frame of a favorite memory or a mug filled with chocolates.
STEP SEVEN: "Do It Yourself" gifts. Not only are they easy to make, but they are also sentimental and thus represent the special bond shared between people. Another perk to these gifts is that supplies never run out. This could be anything from handcrafted picture frames, collages, premade mason jar cookie jars, or even letters. Think simple.
STEP EIGHT: It is impossible to go wrong with food. No one can say no to a freshly baked batch of cookies or brownies. An assortment of cookies, chocolates and edible arrangements are the best way to tell someone that you appreciate them over the holiday season!
STEP NINE: Have fun! Don't forget that mental health is the most important thing during the holiday season. Ensure that there are no added stressors and make sure to enjoy all the shopping fun!