Lindsey Montroy: Never "goodbye" – Just "see you later"
In late July, Senior Lindsey Montroy died as a result of a sudden medical complication. She was a devoted student, friend and teammate. Her inspiration, faith, selflessness, kindness and smile will be remembered by all Adams staff and students.
The class of 2014 was in complete shock and mourning when Lindsey's death was announced via Facebook. Lindsey's
Facebook wall became colored with sentiments, memories and goodbyes from her family, friends and peers.
Senior Kirsten Pihajlic made wristbands for the entire senior class in Lindsey's honor. One side says "Lindsey Rachel Montroy," and the other says "Fly High."
"I wanted to find a way for us to be able to carry Lindsey through senior year," said Pihajlic, "and to carry her across the stage at graduation."
Lindsey's friends, family and religion were her biggest priorities. She had many passions including music, church, and softball.
"She had a strong impact on the team," said former freshmen softball coach, Casey Wescott. "She had a very positive outlook, and made the team better by being encouraging towards everyone."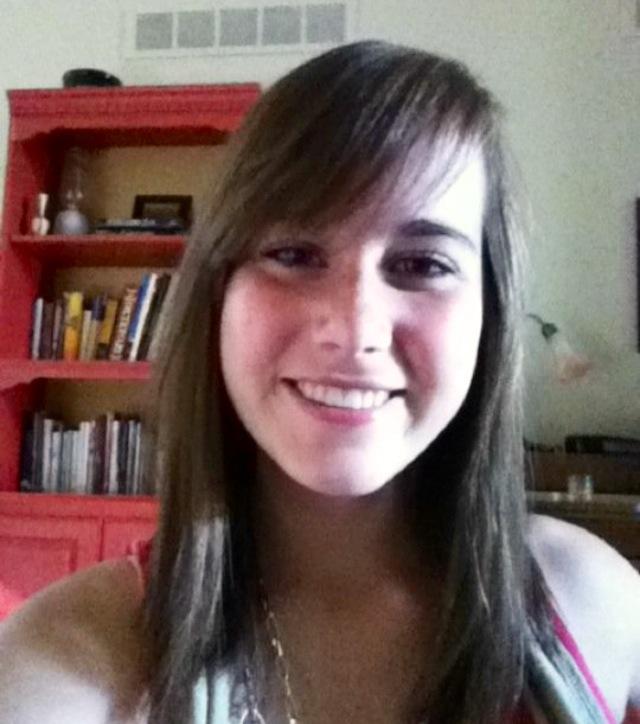 Lindsey had played softball at Adams since she was a freshman.
Her teammates agree that she was their most positive player, and they will miss her presence next season.
"She never gave up," said senior Abby Smith. "There will definitely be a lot of adjusting to do. I played with her for two years on the freshman and JV teams. She was always a team player and made everybody smile. We will all miss seeing her smile."
Lindsey loved music and singing. She sang with her church choir and was a valuable member of the Adams choirs.
"Lindsey was always improving as a singer and musician. She loved to sing, and always wanted the best for herself and for the choir," said AHS choir director, Thomas Blue.
Lindsey's friends recall her favorite song was "Stronger" by Mandisa.
"She had been going through tough times with all her tests and having all her medical problems dropped on her at once. She told me that she was starting to wonder why it was all happening to her, what she had done wrong," recalled senior Brooke Terryn. "Then that song played, and she instantly remembered everything she believed in, everything that made her who she is."
According to her friends, Lindsey had always been passionate about her religion. She was never one to enforce her religion upon others, but rather to introduce others to her faith in order to inspire and encourage them. Her life emphasized the importance of having any faith.
"Lindsey was going to be a missionary. To be specific, she wanted to talk to girls who are involved in prostitution, … pornography, or just meaningless sexual encounters," said senior Tatum Zinzer. "Her entire life is an inspiration."
Lindsey was also an exceptional student and was going to be one of the 14 people to make it to the AP French 5 class.
"Lindsey was a good role model for all of us," said AP French teacher Mrs. Robin Wieten. "She lived by her ideals. She was positive and always helped those in need. She was honest in her opinions. If she did not agree with something, she would say so in a positive way and offer suggestions as appropriate. She actively participated every day. Even if she was stressed or tired, she gave it her all. I miss seeing her smile and hearing her laugh."
There is no doubt that Lindsey's death has made an impact on the students and staff. Most students who didn't know her well would describe her as having been very quiet. However, many students agree that, although she was quiet, they had heard her message loud and clear.
"Lindsey really had a message for all of us," said senior Morgan Miller. "She really just thought that being kind and bringing a positive energy wherever you went created a positive atmosphere for others to follow. She really used her faith to encourage and inspire others to have any kind of faith, because believing in something good allows you to uphold that positive energy."
Lindsey may be gone, but her impact and legacy still fills the halls of Adams daily. Lindsey will not only have an impact among the staff and students who knew her, but also on many students soon to come.
"I was asked to contact the family, because they wanted to let me know how much Lindsey enjoyed being in choir at Adams, and that I was a special teacher to her," said Mr. Tom Blue. "Because of her love for the AHS Choirs, the family has set up a memorial fund through the RCS Foundation to benefit the AHS Choir. Choir was an important part of Lindsey's life experience as she loved to sing. I felt honored for the AHS Choir Department to have that special designation. With the funds, we hope to set up a scholarship or to possibly commission a composer to write a choral composition to honor her memory."
Adams will not forget Lindsey Montroy. As the class of 2014 proceeds to make arrangements for their future, they will keep Lindsey in their thoughts, and make her proud to be a Highlander.
Leave a Comment