Marching Band Motown
The 2021 Highlander Marching Band will have its first performance on April 19th for the Girls Lacrosse Game. The Show's theme for this year is Motown and the band will feature songs like: "I want You Back", "My Girl", "A Natural Woman", "and Ain't No Mountain High Enough."
The marching band's season usually starts at the same time as the football season, however, because of COVID-19, the band wasn't able to start rehearsals until March. Additionally, this meant that the band could not play at football games as they had done previously. The marching band will now be playing at girls' soccer and lacrosse games. 
"The most fun part is finally being able to socialize and play with the band again since virtual doesn't really allow that outside of zoom," said Josie Eckman, one of the drum majors of the band.
The band is thrilled to be able to start playing and performing again, and has been working tirelessly to put their show together. 
"I'm very excited to have all the students together and to get a chance to send off the seniors before they go," said Mathew Harris, the new director of the Highlander Marching Band.
While the band is happy to be back, It hasn't been easy. Like most sports at Adams, there are restrictions in place to make sure every student is safe. The band has special masks they can wear while playing, they must always stay six feet apart, and they must do a health screener before coming to rehearsals.
Pre-COVID, the marching band would have a band camp where they put their entire show together in one week by practicing every day from morning until night in 5 days. During this time, freshmen and new members were also taught the basics of marching and in some cases, how to play their instrument or spin their flag. This year that wasn't possible and all the new members have had to learn as they go, as the band learned the show in 3-hour practices.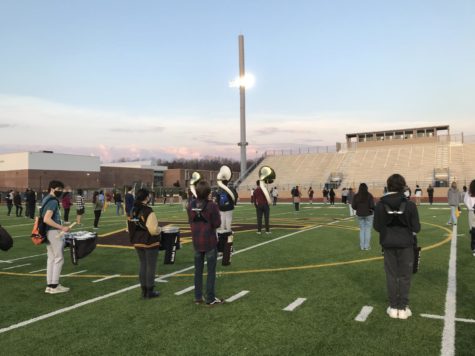 From the beginning of March until now, the marching band has only had a total of 26 hours of rehearsal. This may seem like a lot of hours, but in the span of a little over a month, and compared to most years, it is not that many.
It is easy to look at all the negatives of the situation, but the band has kept a bright outlook and is working hard to be ready for their first performance at the girl's lacrosse game. All in all, it is a huge win to have the Highlander Marching Band back and ready to spread Highlander Pride again.