Homecoming: A History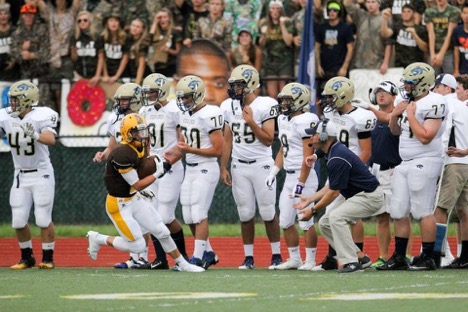 Homecoming is well-known for school spirit, fun with friends, and gameday hype. The most familiar festivities of  Homecoming include the Homecoming court, pep assembly, game, parade, and the long-anticipated dance.
"I think Homecoming is a time to spend with friends and support your football team," said freshman Amanda Mazzuchi.
However, most students are unaware of the history behind the Homecoming celebrations. The Harvard Crimsons and the Yale Bulldogs have been inviting alum to return home for their football games since the 1870s. The University of Missouri, however, holds the honor for hosting the first official Homecoming in the nation.
The game between the University of Missouri and the University of Kansas took place on November 25, 1911. The two teams have one of America's most time-honored sports rivalries. Sports Illustrated deems the feud as the oldest one west of the Mississippi River. The coach and athletic director at University of Missouri invited all alumni to "come home" for the original game to ensure a good turnout. The legendary game ended in a 3-3 tie, but was celebrated with over 10,000 returning students. It also included events such as a parade, bonfire, and pep rally. These festivities were so successful that eventually the idea of Homecoming celebrations spread nationwide, and is now a popular annual fall tradition for high schools and colleges around the country.
Homecoming football games typically feature a home team playing a considerably weaker away opponent to be considered an "easy win". Adams' Homecoming game will take place Friday, October 14 with kickoff at 7 p.m. The Varsity Highlander football team will take on the Stoney Creek Cougars. Halftime includes a performance from the Adams Marching Band, an introduction of Homecoming court and performances from the Adams Dance Team and Varsity Cheer Team throughout the game.
"No game is ever easy. We earn every win we get and we have to treat Stoney just as any other opponent," said Varsity Football player and senior Mark Patritto.
"Adams typically has done well against Stoney in the past, but each year is a new team. We hope to continue the historic trend of winning. I love my team and I'm very proud of the hard work and success that'll come with it. Go Highlanders!" said Patritto.