Free Merch? Merch Madness starts at Rochester Adams High
On Tuesday, the Amble Inn announced the first-ever Merch Madness on their Instagram. It is explained as a promotion to help with generating more online orders and getting more customers for the Adams school store website. What has the students so excited about the contest is that the winner receives a free item in the Amble Inn worth up to 35 dollars in value. 
The rules are straightforward, and can get you the Adams merchandise that you want. All a student has to do to win is correctly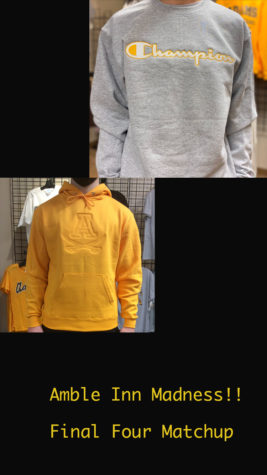 predict the matchups of the merchandise competition. Based on the Amble Inn's information on their Instagram page, the contest will continue until Friday, April 9th. It is through a google form linked in their Instagram bio. It also appears on a QR code throughout the school. 
The contest so f
ar has been a significant success as they have received 121 brackets in the last three days. The competition wouldn't have been this successful if it weren't for the Adams Student Council, as they have promoted it through Instagram and the morning announcements. The contest was put together by Michael Moss, Felice Gragnaniello, Olivia Delikat, and more. 
"It's pretty c
ool to see something you had a part in go around the entire school, and you have an impact on the contest 24/7. I am very excited to see who the student is that wins the contest and what prize they will decide on," said senior Michael Moss.
The final four of this contest came as no surprise to the student body. The first matchup is the Champion PacknGo White Jacket going u
p against the Champion PowerBlend Hoodie Gold Patch. In the second matchup, the Gildan DryBlend Gray Adams varsity print A swords will battle the Champion Script Light Grey Crewneck. The clothes win the matchups if they receive t
he majority of votes against their competitor on an Instagram poll, which can be found on the Adams Student Council Instagram..
Many Adams students are curious to see what item will come out on top and have voted in each round. Some people disagree with the final four matchups. 
"Honestly, I thought the Champion Stiched A with Swords was the best item in the competition, but it went out in the first round," said Adams junior Bradley Pennoni. 
Since this article was written, the championship took place and the lucky winner was freshman Colton Janes, who then walked away with the Champion Script Light Grey Crewneck as his prize.