Fall into Fall Fashion: Closet Must-Haves
Summer has come to an end and fall weather is finally upon Michiganders and the familiar autumn chill is back in the air. The change in weather calls for a change in wardrobe. Here are the eight closet must-haves this fall:
Time to re-boot!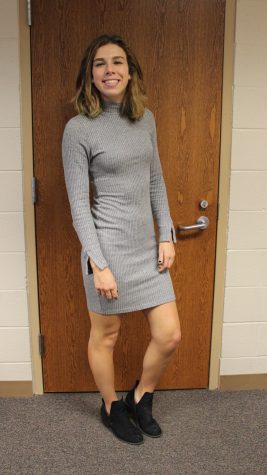 Senior Emily Blust accessorizes her sweater dress with a cute pair of ankle boots!  
Fall is the perfect time for these warm and comfortable shoes. Whether they are trendy ankle boots or much-loved Timberlands, boots are incredibly easy to style and complete any fall look.
Don't sweat it, you look great!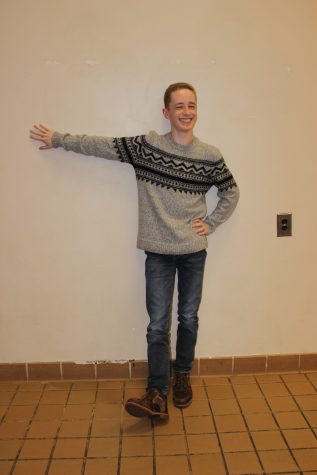 Sophomore Michael Berry strikes a pose to show off his warm sweater.
With the cold air nipping away at everyone, there is no better time to bring out those thick, cozy sweaters. Pair a comfy sweater over a nice pair of skinny jeans and strut your stuff.
The popularity of sweaters have become more evident as fall settles in, and the Adams students love it.
"I wear sweaters because they're really comfortable and big," said junior Dawn Li, "and I got my sweater from Forever 21."
In-vest in your closet!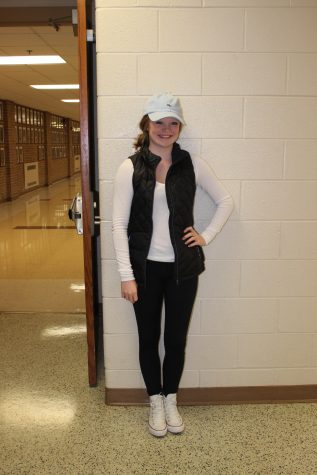 Sophomore Emma Brown keeps warm in her lightweight vest.
While digging for those sweaters, don't forget those snazzy vests too. Vests are great add-ons to any good fall outfit. They are perfect for keeping the body warm, but without the heaviness of a coat. Choose a nice long-sleeved top and couple it with a light-weight vest.
Beanies are the bees knees!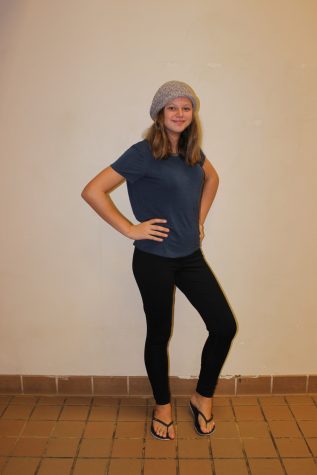 Freshman Bri Czubay wears a beanie to add to her outfit.
Don't forget to keep the head warm with one of these stylish beanies. These hats are the key to either covering up a bad hair day, or pulling an outfit together.
"I like beanies because they're comfy and then they fix my bad hair," said freshman Bri Czubay.
You'll be the coolest person in the neighborhood-ie!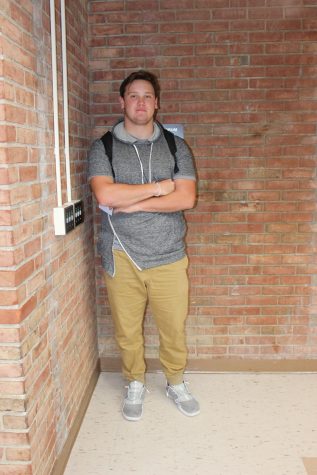 Senior Tyler Wineke poses in his stylish gray hoodie
Don't be discouraged just because it's not winter, hoodies are a year-round kind of thing. Cold? Hoodie. Trying to relax? Hoodie. Allen? Hoodie. Or is it Hoodie Allen?
"My hoodie is from American Eagle, and I got it because it's the comfiest hoodie that I have, and I like it," said senior Jessica Stoitsiadis.
Fall fashion means swiping your credit card-igan!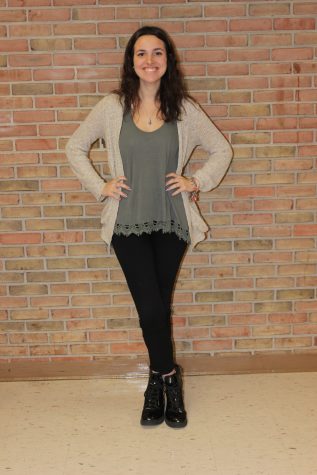 Senior Jillian Roodbeen models a beige cardigan.
Cardigans are a much-loved article of clothing that often makes an appearance in the fall. They go great over any outfit and can transform the look into being more comfortable and stylish.
Channel your inner flannel!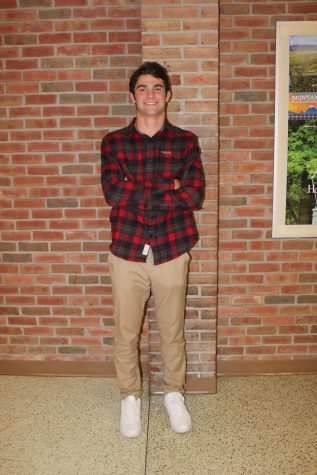 Senior Mark Patritto rocks the flannel look.
Remember those much-loved end-of-summer bonfires? Don't forget to throw on some flannel on the way. These soft shirts are sure to keep the warmth for when the fire's burning low. Throw on that plaid, couple it with a nice scarf, and drive out to that bonfire.
Time to wrap it up!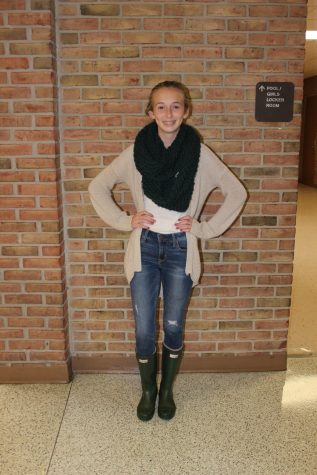 Freshman Carson Duff uses a knit-scarf to decorate her look and keep warm.
It wouldn't be fall without a nice, warm scarf. Pair this item with any of the above to complete the perfect fall look.