Celebrating Culture the Highlander Way
Every year at Rochester Adams High School, there is a unique tradition that has continued for years to enrich students' understanding of cultures and embrace their diversities. This very tradition is known as Foreign Language Week (FLW). This is a whole week dedicated to teaching all of the students in the foreign language departments about a certain theme related to culture. For instance, there is a cycle of four themes: The World in Detroit, Charities Around the World, Celebrations Around the World, and Business Around the World. This year's theme was "The World in Detroit". Foreign language students had the opportunity to learn about a wide variety of different cultures and how they came to Detroit. During Foreign Language Week, every day was filled with something new, exciting, and enriching.
Day 1:
The first day of Foreign Language Week kicked off with an introduction to the overall theme. As this year's theme was "The World in Detroit", students took notes on an interesting powerpoint and video. This presentation featured the history of Detroit and an overview of how all the different cultures filtered to the booming area. The foreign language students grasped new information about the different groups that came to Detroit, why people moved to Detroit, how the population of Detroit changed over time, and more. Besides the classroom activity, the first day of FLW is also "Food Day" for the Adams High School staff. For this particular event, students signed up to bring in a unique dish from their own culture for the staff to have during lunchtime. This opportunity offered an embracement of diversity within AHS, by showcasing students' backgrounds through food.
Day 2:
The second day of Foreign Language Week featured a guest speaker who presented about his culture and journey to Detroit. The presentation took place in the media center where all the foreign language students gathered during their language class hour. This year's special guest was Edmond Coon, senior Grace MacFarland's grandpa who was born and raised in the Native American culture. Coon presented about his Seminole culture to the students in relation to his childhood, his school life, and his life changing experiences that led him to Detroit, Michigan. With Coon's impactful presentation, the students were able to gain a better understanding of a culture that is unfamiliar to most.
Day 3:
"Diversity Day" occurred on the third day of Foreign Language Week. This day was designated to embrace specific Adams students' different cultures. Each class attended three different presentations in which a selective amount of students signed up to showcase their own family's culture and customs in relation to the theme of FLW. One of the many cultivating presentations was by senior Kaitlyn Wehner who exhibited her strong German culture. Wehner taught the students about her experiences in Germany and her family's German customs.
"For Foreign Language Week I presented on my family heritage and my experiences as a German citizen. For instance, I lived in Germany for three years and visited many historical sites such as the Berlin Wall and Neuschwanstein. I hope I could influence people to be interested in German and its culture as Germany is available for all people to visit, even those who cannot speak the language," said Wehner.
Along with learning about numerous students' backgrounds, "T-Shirt Day" was another activity incorporated on this day. The foreign language students got creative by hand-making shirts that represented the language they are enrolled in and connected it to the Detroit theme for FLW.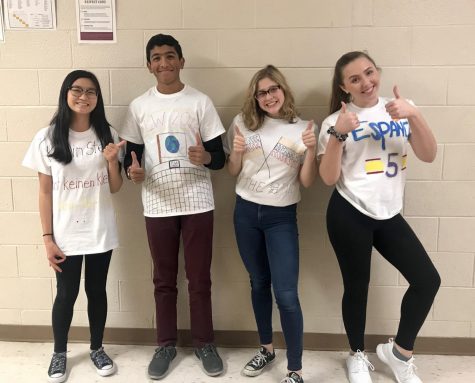 Day 4 and 5:
The fourth and fifth days of Foreign Language Week were designated to the students' projects. This year foreign language students presented to their class about their family's culture, history, and their journey to Detroit. This project allowed Adams students to learn more about both their classmates and various heritages around the world.
"I love the student presentations because not only do the students get to learn about their own family history but other students' cultures as well. One of the most interesting things I learned was that a student's grandma was one of the youngest arrivals to Ellis Island at just two weeks old," said German teacher Stephanie Stein.
In addition, on the fourth day of FLW, students from every foreign language department competed in a soccer tournament. This competition was very intense as students had to try out and even coordinated practices prior to the event. This year, the German students won the soccer tournament, thus winning a gold world cup trophy and bragging rights against the other language departments at Adams.
In sum, Foreign Language Week was a week of enrichment and exposure for foreign language students. With learning about numerous backgrounds and cultures, students were able to gain a better understanding of the diversity of Detroit and the diversity of the world as a whole.