An Outside View: Antoine Rambert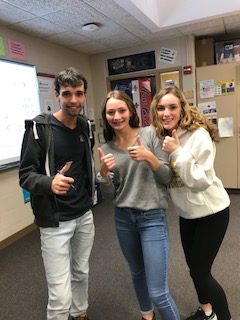 Bonjour from Rochester Adams High School! Adams is a place of diversity, so welcoming French native Antoine Rambert to the staff was easy. Rambert is visiting the United States to improve his English and become more educated in American culture. The Amity Intern Program gave him the opportunity to do that.
Q: What do you like about Adams so far?
A: I like the spirit of the school. I like that there is a lot of sports. I'm not a big sport man, but you have a swimming pool and a football field.
Q: What are you most excited about at Adams?
A: I heard about Madonna, but I wasn't really excited. This is the only information I found. For high school in general, I wanted to see American football and all the stuff around it.
Q: What made you want to be a teacher?
A: It took a long time working to know I wanted to become a teacher. At the beginning I wanted to become an engineer, but I failed in the studies you could say… When I was in high school, I did some private lessons to make some money. So I knew it was something I liked, and then after a few years I began to work in elementary school. I knew it was one thing I could do for life.
Q: Michigan is different from France, but did you have any expectations for Michigan?
A: Not really no. I didn't know Michigan before. I really only knew cities like Detroit, Chicago, and Cleveland,  just because of rap music. I knew Detroit too because of I heard about a big depression and cars and stuff.
Q: Are there certain things that have been very American?
A: All of high school with… the spirit of high school, which is really, really American. In France we don't have these clothes in high school with the [school] colors. Also, there are very straight roads, big roads, big cars. All the basketball things in front of the houses, everybody has them which is really American for me.
Q: What do you miss the most about France?
A: Some kind of food, and some people. I was in Asia before I came here, and it's been three weeks I've been here, so I don't miss a lot yet. Mostly just close family.
Q: Could you ever see yourself teaching in the United States?
A: Not yet. Maybe in the future, but not yet. It's too early, and in fact  I don't want to become a teacher right now. I want to have more experiences. I'm open to it, but for the moment not yet.
Q: What impact do you want to have on the students at Adams? What's your end goal?
A: [To] discover America I think. I want to see some sport games, some music events. I'm more here for American culture. My main goal though is to learn to speak English. That's why I came here, to become fluent in English.
Q: What's the most surprising/shocking part about America? Did any stereotypes prove to be true?
A: Nothing really shocked me, but a stereotype was that you eat a lot of vegetables. It's kind of stupid, but nothing else really shocked me. I also didn't expect America to be so welcoming.
Q: Do you have any plans for the summer? Any places you want to see?
A: I'm going to discover the East coast and the West coast of America. Most likely the East coast, because I don't think I have enough money to go to the West coast.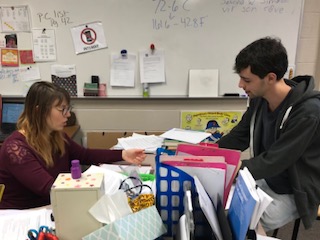 Q: Where is your favorite place to travel?
A: Vietnam was my favorite place while traveling. I liked it because it was a huge culture shock. People are very quiet, but one cool part is in the shops. If the people think they've made enough money for the day, they won't work anymore.
Q: How was your first snow day? What did you do?
A: I slept and I chilled. I did my teacher homework that I didn't do over the weekend. I could relax over the weekend and use the snow day for teacher work.
Q: Did you watch the Superbowl? What kind of things did you do?
A: Yes I watched the Superbowl. I only understood the touchdowns. It was my first American game so it was exciting, and I really, really, enjoyed it.
For the next five months, Rambert will be working with the French students at Adams. He will help with the students' French, while learning English himself. By the end of the school year, the level of diversity at Adams High School will be even greater than before.