AHS Students Deliver Message About Mental Health
Mental health has a lot of stigma around it, and it can be a very touchy subject for some. This week, Rochester Adams High School students decided to make a change and break the stigma surrounding mental health.
Students participating in Here4U gave a presentation that took place on Friday Feb, 17th in second, third, fifth, and sixth hour. Here4U is a peer educator program spreading awareness on mental health, breaking stigmas within the school, and providing resources for help. Counselor Christy Clement helps run the group by giving the students time and resources to advance their progress in making it comfortable to ask for help for all students.
"We have been working on this presentation for months. When we walked on stage for the first time, it was very nerve-wracking. Once we all understood that the audience was respecting the message we were giving, it was very easy to talk to my classmates," Said Lila Nakamura.
The 45 minute presentation by Here4U students was to make it easier and more comfortable for kids to simply ask for help. As a kick off to the program, the presentation informed students about what the program does and what students can do to keep a healthy mental state.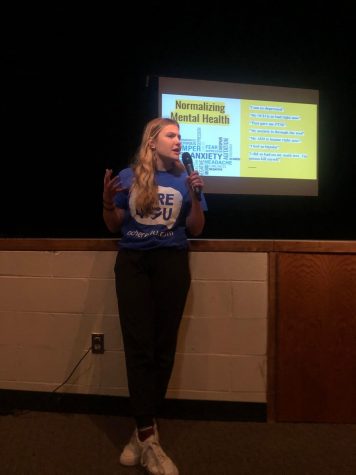 "20% of all high school students suffer from a mental health disorder," said Here4U participant and sophomore Josh Vokal. 
Many Resources were given to the audience such as local and national suicide hotlines. In addition to the presentations, Here4U students set up the first Wellness Week at Adams, which will start February 10th-15th. This will include many activities geared towards helping students relax and keep their minds right at school.
Here4U's presentation was a great start to decrease the amount of high school students suffering with a mental health disorder and spread awareness about the options available for treatment.