Adams Virtual Enterprise
Business is booming for Rochester Adams' virtual enterprise class with teacher Mr. Mavis. This is the second year that all three high schools in the Rochester Community Schools District have run the class, and the students are excited for what their business has in store for them.
Virtual Enterprise is a class that is set up as a business with students acting as CEOs, CFOs, and other professional positions that make up the corporate structure. 
Students begin the class in September by brainstorming business ideas and choosing one for the class to finalize and create. The students use a website called The Hub, which allows them to do all of their online work and assignments. Students in the class also have the opportunity to go to conventions to try to advertise the company and win awards for their hard work in the business.
Students were interviewed for jobs within the company in late September. Bobby Elliot was hired as CEO aside Quinlyn Jacob as CFO, Jack Snook as COO, and Dylan Blackmer as CTO. The heads of the departments then had to decide which department to place the other students. 
When asked about his CEO position, Elliot stated that he "enjoys the position, although it can be challenging sometimes. But it will prepare me for future jobs I want to pursue."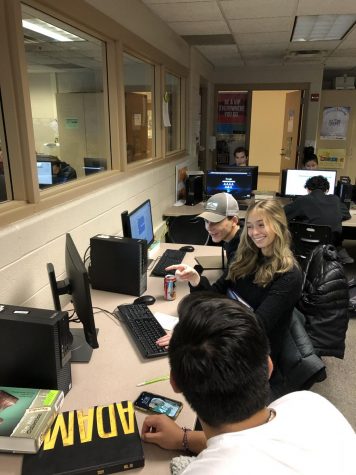 After positions were decided, students had to come up with ideas for what their business should be called. Several weeks passed until the name of their company was final. Culture Crib was the company name that was decided, with the goal to decorate and design rooms that resemble popular video games, movies, or television shows. 
When asked how this class is different from his other classes, Mavis stated, "It's not a lecture based teaching class, so it's very cool seeing kids figure out things together while using real world applications." 
Mavis and the virtual enterprise students are excited to continue growing their business and learn more about the class as a whole.