Adams Graduates 414 Seniors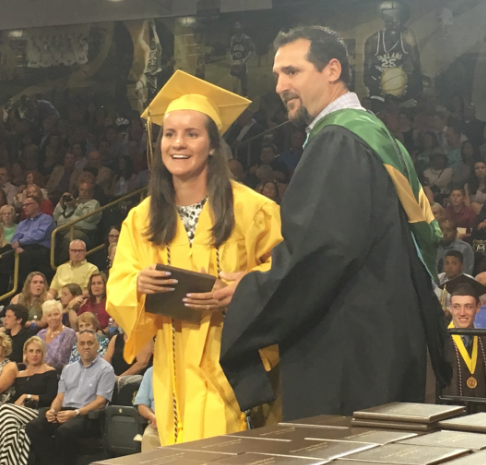 The summer sun is shining bright as the school year gently concludes. The graduating class of 2017 left the premises on May 23, and Adams feels strangely empty and awkwardly dull. On June 7, 414 Adams seniors walked the stage at the O'Rena. Forty- two students graduated as  "Scholars of Highest Distinction" ; 55 were honored as "Scholars of Distinction", 72 students were honored as "Scholars of Achievement".
"[They were] so full of energy, full of fun. They just brought a lot of energy to the building," says Adams' Assistant Principal Deb Cooper.
Many decorative cords representing their respective after-school activities were donned by the seniors- from National Honors Society to International Thespian Society– and the seniors were proud to be representing their clubs.
"Graduating high school is a very liberating experience, but it also can be a sentimental goodbye that you don't realize you have to face. You get recognition for all those years of hard work in high school and public school in general. Unfortunately, it shows you how quickly you really have to grow up in the grand scheme and leave friendships you may have had since you were young and people you've even met in your second semester of senior year," says now alum Zoe Garden.  
Graduation was spectacular, and everyone, from the staff to the students, wishes the seniors well. Farewell Seniors!