Adams Students Go Global
With immunizations flowing through their bodies, suitcases full of food and cultural appropriate clothing, and hearts on their sleeves, 52 Rochester Adams students embarked on their biennial trip to a small island just south of Cuba: Haiti. In 2010 a major class, magnitude 7 earthquake left the country of Haiti in shambles. Houses destroyed, families ripped apart, and the government left dwindled, Haiti remains in a brutal struggle to recover.
The Mission of Hope established a presence in Haiti in the late 1900's to help the people of this country create a self sustainable environment. On November 18th, a group of Adams students made the ten and a half hour journey down to a small Mission of Hope compound in Western Haiti.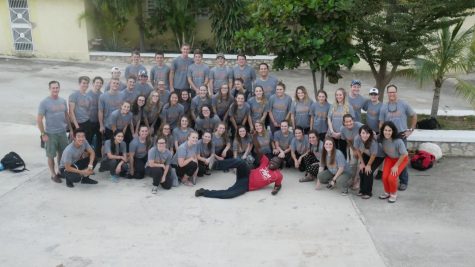 "We did a wide range of things like home repair, visiting orphanages and elderly homes, learning about village life, and packing food to feed families. Going on this trip gives you a perspective on how the real world works. It shows us how much we take for granted and as much as we help the people there, they end up helping us in a way you wouldn't expect," said senior Miriam Riviera.
The way the social system is set up in Haiti is drastically different than that of America. People are born into the social position they will remain in for the entirety of their life.
"Seeing all the people in Haiti and going into their villages was a life changing experience that I will never forget," said junior Michael Zyrek.
The role of Adams students was bigger than simply doing a craft with a little boy or singing songs with the elderly. Their responsibility was to use these activities to provide a sense of care and belonging to the people of such a fallen country. Although the mission of Adams students was to be the hands and feet of The Mission of Hope, their help resonated much deeper than surface level. So while most Americans were celebrating Thanksgiving gathered in homes eating meals with their families, some students from Rochester Adams strayed from tradition and brought the meaning of Thanksgiving to the people of Haiti.