Adams Gets Cultured
For several at Rochester Adams, Michigan has been their home since they were little. However, the following students have come from across the globe to experience American culture and the fresh new perspective of living in Michigan. Lucy van Eerde, who moved to Michigan from The Hague, Netherlands, Alessia Scardi, an exchange student from Sicily, Italy, Karin Scholdstrom, an exchange student from Stockholm, Sweden, and Giovanni Cavallo, an exchange student from San Severo Puglia, Italy all seem to have different views on what it has been like to be a Highlander.
What do you like most about Adams?
van Eerde: The school spirit.
Cavallo: Adams is like a family. Since the first day I came here, I felt comfortable with everybody, and there has always been someone available to help me if I have any problems.
Scardi: The school is big, and the people are kind.
Scholdstrom: My friends of course, but I also like how wide the selection of classes is; there I something to take for everybody.
What do you miss most about your country?
van Eerde: I miss the Dutch culture, community, and the freedom I had.
Cavallo: Food. Italy's food tradition is really different, and we basically have pasta every day, and I miss that. Of course, I do miss my family and friends very much too, but the food is always at first place–haha.
Scardi: My friends and my grandmother.
Scholdstrom: Except for family and friends, I really miss starting school later in the day. I also miss speaking Swedish, which is something that is miss more than I thought I would.
Martin: What do you think about the Michigan winter?
van Eerde: I love the snow!
Cavallo: Michigan winter is wonderful; it is one of the reasons why I came here.
Scardi: It's the coldest weather I have ever been in.
Scholdstrom: I love the cold and the snow, so I do not mind the winter here at all.
Martin: What is your favorite thing about America?
van Eerde: I love America's geography because there are so many different environments and climates in one country, and you don't get that anywhere else.
Cavallo: America is the country of possibilities. Everyone can reach any position, and do whatever he/she wants if they just work really hard.
Scardi: Diversity.
Scholdstrom: There's a bunch, but the food prices are definitely a good thing. Everything at Starbucks is double the price in Sweden.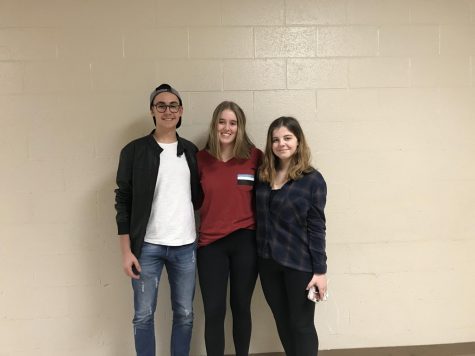 Martin: What's your favorite American dish?
van Eerde: I'm not sure what my favorite American cuisine is. I don't really like hamburgers, and I'm not sure what else is American, but I really enjoy the steak here.
Cavallo: Deep fried chicken. I tried it for the first time and fell in love with it.
Scardi: Fried chicken
Scholdstrom: Sweet potato casserole.
Martin: What American stereotype that you have is accurate?
van Eerde: Americans are very loud.
Cavallo: The Simpsons are my American stereotype, and yes, they're pretty accurate-sometimes.
Scardi: Americans are lazy sometimes, as I thought.
Scholdstrom: I thought the students would be more divided into smaller groups, like in all high school movies.
As Scholdstrom, Cavallo, and Scardi's time in the states is nearing an end, they will go home with many memories of their time here at Adams. As for van Eerde, she has one more year left at Adams and hopes to continue her studies at a university in the United Kingdom after high school.