Adam's Charity Can Drive Ended in Great Success
On the week of November 15, 2021, Adam's High School hosted its annual can drive raising $27,502, and a total of 3,387 cans. Throughout the can drive, students bring in cans, toiletries, money, and anything that could be useful to the Rochester Neighborhood House. Teachers at Adams not only took donations but sold food for students to buy. All of the proceeds go to the local charity, Rochester Neighborhood House.
Teachers also participated in the can drive as a competition based on who can raise the most for the Rochester Neighborhood House. In third place, Mrs.Connell raised $1,650 and 63 cans, in second place was Mr. Porter with $3,088 and 132 cans. The first-place winner who has won the majority of the can drives was Mr. Lovalvo, with $3,527 and 104 cans.
"I really liked how we came together as a school to better the community around us," said freshman Molly Snook.
Teachers also offered incentives to encourage students to donate money. Most teachers used movie days or food as an incentive for students to donate. Coin counting was another incentive some teachers used. Students would bring in coins and teachers would count all of the coins before being able to start the class. Incentives like this were fun for students forcing their teachers to use class time on something other than the grind of coursework.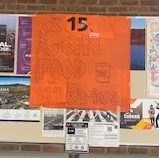 Mr. Lovalvo's main operation is selling food; pizza, pop, and donuts. All sold out every day as kids crowded around the food and drinks for the sake of charity. 
 "I really liked how the organizers made it fun for the Adams kids when donating, like as if we got a day that we can just chill in class and pick our own seats and things like that. I also really liked where the money was going and how we all made so much of it," said freshman Izzy Brett.
Overall, charity week was a great experience for Adams students and the Rochester Neighborhood House. Once again, Adams High School played a significant role in stocking the shelves of The Neighborhood House.