10 Ways to Get In the Christmas Spirit
The temperature falls and lights go up, coats and boots come out from hiding, but sometimes weather change is not enough to make someone feel fully embraced with Christmas spirit. Transitioning from one holiday to the next can be tricky, but luckily there are countless activities people of all ages can do to change this mentality. Provided are ten simple steps to lead individuals into the Christmas mood.
1) Listen to Christmas music
Nothing says Christmas like the classic joyous songs that come around each and every year. From old tunes like "A Holly Jolly Christmas" by Burl Ives, to present day renditions like "All I Want for Christmas is You" by Mariah Carey, there is a huge variety of music to please everyone. These melodies have the ability to make people feel Christmas all around with their heartfelt lyrics, rhythmic beats, and catchy rhymes. Make a playlist now to jam with friends and holiday cheer is guaranteed to be achieved.
"My favorite Christmas song is 'All I Want for Christmas is You' by Mariah Carey because it is upbeat and always reminds me of Christmas immediately," said junior Kaitlyn Petrosky.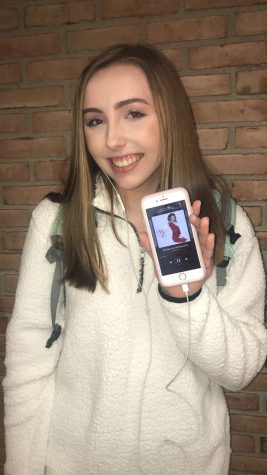 2) Wear winter clothes
It is time to take out all the winter attire because the holidays are right around the corner. With big long coats, hats, scarves, gloves and boots, how can someone not be in the Christmas mood with these warm comfy clothes on? When wrapped up in these clothes, especially during the holiday season, the Christmas feeling is present inside and out. So get back out the winter clothes and sport them with spirit, as it is time to embrace the biggest celebration of the year.
3) Decorate
Like they say in the famous Christmas jingle, "Deck the Halls," decorating the house is another activity that initiates a holiday mood. How can putting up trees and lights not make someone feel Christmassy? Along with those traditional decor items, one can embrace their crafty side with countless DIY ideas from Pinterest. With being surrounded by decorations for the holiday season, it is impossible not to be filled with joy.
4) Watch Christmas Movies
A cozy pile of blankets while eating some sweet treats with a remote in hand equates to the perfect Christmas ambiance. Viewing both the classic and latest Holiday movies ignites the beginning of the special season. These types of films include plenty of songs and happy endings relating to the season's festivities, which sets the Christmas feelings in motion.
5) Make Christmas Treats
One of the best parts about the greatest time of year is obviously the food. Baking Christmas cookies and sipping the first hot chocolate of the year mark the kick start of these joyous feelings. From cookies, to peppermint flavors, to eggnog, to delicious hot cocoa, nothing will put someone in the Christmas mood more than the iconic treats of the season. Put the apron on now because it is time to whip up the tastes of the holiday!
"My favorite kind of Christmas cookies are homemade sugar cookies with frosting and sprinkles. We make them every year with my family and neighbors. It always gets me in the Christmas mood because we play music and spend quality time together," said senior Ryan Ouimet.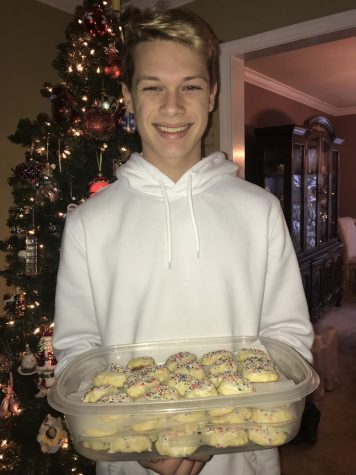 6) Host a Party
What brings out more Christmas spirit for oneself than initiating the joy first hand? Hosting a holiday party will accomplish this. Decorations and food surely spread the energy, but more importantly being surrounded by friends and family will enhance it even further, as they are what the season is all about. So gather the ones most near to the heat, the most exquisite decorations, and the most delicious food to party into the holiday fever!
7) Attend a Christmas Event/Performance
There are an immense amount of events which occur during this time of winter. Some of the most popular being attending Christmas performances including A Christmas Carol, a Christmas choir, and countless more that are sure to transition one into the holiday feels. Along with that, going to Church heightens people's Christmas spirit as it is ultimately the reason for the season! Getting out of the house to enjoy these Christmas related events allow one to achieve the desired mindset.
8) Shop
Going to mall makes it impossible to not feel the excitement of Christmas. Buying gifts for loved ones and browsing at all the unmissable holiday items and sales complements ones joyous side. Not only will buying gifts for others enhance these feelings, but it will also allow people to find things they want to add to their own Christmas list. So go to the local mall and shop till the Christmas feels are to their highest peak!
9) Donate/Volunteer
Nothing says getting in the Christmas spirit like donating or volunteering. Some of the most popular donations this year include donating toys, clothes, or simply money. Additionally, there is a great amount of volunteer opportunities during this time. These spark the Christmas feelings of compassion and selflessness and overall love, after all they do not call it the season of giving for nothing!
10) Look at Christmas Lights
Blinding lights in the shape of Arctic creatures or hanging off of shivering trees. The sight of these decorative features will intensify an individual's passion for Christmas. A few local spots that are a must for viewing lights include, the Big Bright Light Show in downtown Rochester, the lights at the Village of Rochester Hills, and countless more. Whether it is viewing a crazy scene of lights or simply driving through neighborhoods, one can attest that it makes for 'Christmas at first sight.'
Although it can be discouraging being in the 'Bah-Humbug' mood, this can easily be changed with the help of the past stated ten steps. All of these ideas create an unavoidable Christmas effect which will evidently put one directly in the holiday spirit. Accomplish as many of these steps needed, or even more beyond this list, and one will find themselves jumping for 'Joy to the World'.