Varsity Cheer Team Secures Third Consecutive State Championship
Following an impressive victory at the competitive cheer regional finals, the Adams Varsity Cheer team earned the opportunity to compete at the state championship competition in Grand Rapids on Friday, March 4th.
The team took full advantage of this opportunity, as they triumphed over the seven other schools present, securing the state title. This victory marks the cheer team's third state championship in three years, effectively cementing this team in Adams' school history.
The competition took place at the DeltaPlex Arena, and it was packed with excited parents, hopeful students, and a few intrigued college scouts. The atmosphere was electric, which coupled well with the Adams team's seemingly flawless performance.
"When you're on the mat, the stands are so far up, so it feels like everyone is really far away. The pressure is intense because you can basically only hear yourself, and you can only focus on the people judging your performance," said All-State senior Gigi Schultz. "The team has been through a lot this season, so finally being able to see that all of our hard work paid off is the most rewarding feeling."
The first round saw Adams take an early lead; the team received a score of 239.2 out of a possible 240. This gave the girls a slight lead over the second-place Rochester Falcons, who scored 238.8.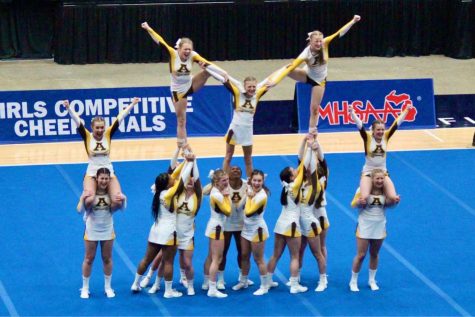 Round two followed a similar story. Adams earned 232.94 out of a possible 324. Rochester fought hard to stay neck and neck and received a score of 232.22. The round ended with Adams narrowly winning, beating the tailing Falcons by about 1 point.
"We knew Rochester wasn't a threat. Round 3 is normally our best, and we were confident going into it, as always," said All-State senior Christina Truszkowski.
The team's confidence was certainly not unjustified. After Rochester received a harsh penalty to their score for dropping a flyer, the Adams cheer team was effectively out-of-reach for any would-be state champions, and the trophy belonged to Adams once again.
"It was an indescribable feeling of excitement when what we worked for all year finally came together like that. Of course, I'm going to miss the seniors next year, but we couldn't have had a better way to send them off," said junior Emma Maynard.
The team delivered in every way. As a result, many are optimistic about the years to come. Four consecutive state championships may be incomprehensible for most schools, but it is not an unrealistic expectation for Adams next year.