Triumphal Traditions
To what proportions are Adams students willing to go to showcase their achievements? When it comes to AHS sports, the sky's the limit. This season as fall sports come to a close, dedicated athletes continue traditional celebrations. From intense football playoffs, to selected swimmers attending States, to soccer's opportunity for a District title, the ends these athletes go to have no limits.
The Adams Varsity Football Team has a unique tradition to embrace their accomplishments. As the athletes entered into the playoffs, not only did they sacrifice their time with hard-core 3 hour practices, they also sacrificed their hair. Although it may seem crazy to some, these dedicated football players all shaved their hair into mohawks.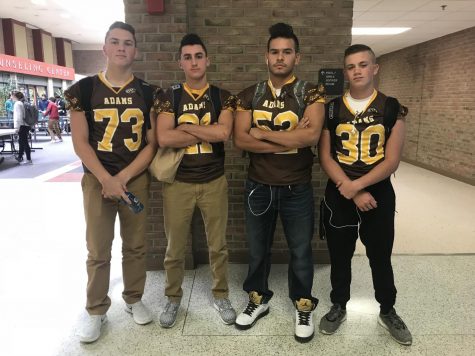 "It wasn't my favorite thing to do because I take a lot of pride in my hair, but it was worth it keeping the Adams tradition alive," said junior Nico Jackson.
With dedication like this, no one can argue with the fact that the AHS Football Team demonstrates great dedication towards their school and their sport.
Rochester Adams Girls Swim and Dive Team highlights their talent in a memorable way as well, although it comes with a high price. Every year the varsity swimmers who qualify for States have their triumph highlighted in a fashionable sense. All of these girls continue the custom of purchasing matching outfits, which in the past have included high class clothing items including Lulu Lemon, Patagonia, and Nike tennis shoes. Some critics may say paying that much money for one outfit for one specific event is outrageous, but to the swimmers it is an honor to have this privilege and opportunity.
"My favorite part about going to states is definitely the experience as a whole. You become so close to the state team, since we have been spending enormous amounts of time together since early August. As a state tradition we all receive matching outfits. This year we are planning on matching pink Patagonias and Adidas ultra boost shoes. I am not a big fan of pink, but it's the team image that matters," said junior Reese McCorry.
With that being said, it is evident that the State's outfit is a huge part of the Adam's Swim Team. This custom may seem extra, but ultimately it expresses team spirit and brings the tightly knit athletes even closer together.
When Districts for soccer rolls around, so does a new look for the Rochester Adams Men's Soccer Team. This tradition is impossible to ignore, as every player dyes their whole head of hair with bleach. During this time, it is clearly easy to spot any soccer player due to their bright heads.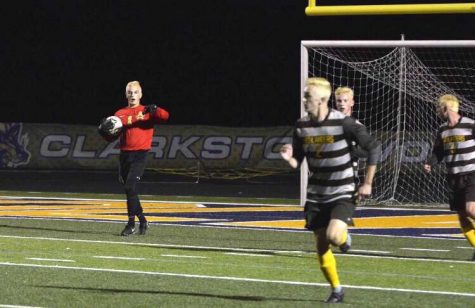 "Bleaching our hair is worth it if you go far in the state tournament, unless of course you get out in the first round for the past two years," said junior Logan Janes.
Soccer, though a somewhat under appreciated sport, deserves to get the recognition they achieve when they show off their bright-yellow heads before districts.
When it comes down to it, Rochester Adams High School athletes tend to go overboard to express their hard earned accomplishments, but it is worth the price. Ultimately, these unique customs represent school spirit, hard work, and dedication. From mohawks, to pricey outfits, to bleached hair, Adams athletes refuse hide their highlander pride.