The Defending State Champions Are Back
Rochester Adams cheerleading returns for the 20-21 season in full force. There is no doubt that the team will be competing with a target on its back this season after winning the state title last year.
The Highlanders will need to fight throughout the season as the defending Division 1 State Champions. Roughly 11 months ago, the team took home its first-ever state title and is now ranked as one of the top teams in the state. After winning the title, Covid-19 hit the country in March of 2020 and left the team with the uncertainty of whether it would have the chance to defend its title. But a year later, the team was granted the opportunity to compete. 
"This will be my last year as a cheerleader. I just want to go out and defend our state title. With being allowed to compete, it left me speechless and thankful that I could be with my team one more time," said senior Claire Crutchfield.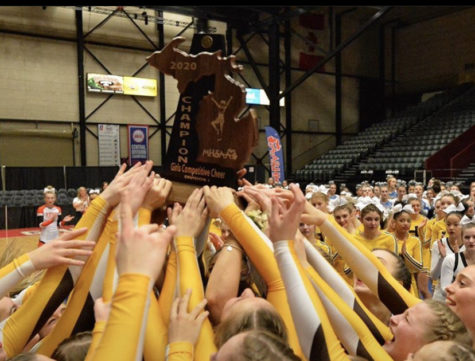 With no time to spare, the team picked up right where it left off. Adams started the season on February 13th by winning the Adams Invitational. Then on February 20th, the team won the OAA Red Division Title with the highest score of the day. Stoney Creek finished in second, then Lake Orion in third, and Rochester in fourth. With two strong wins under the team's belt, the girls are ready to continue with their season.
"I have been on the team since I was a freshman, and I've never felt this bond between a team. The team is so hungry to take another title; they will do whatever it takes," said senior Olivia Ris. With Districts approaching in the next two weeks, the team seeks another victory on their journey to the State Finals.