Tennis Takes On States
As spring sports at Adams High School wind down, the varsity tennis team rises to the top. After a successful 9-1 season, the team continued on to regionals. The devoted team worked their hardest and showed daily dedication at practices. Consequently, they took on the challenge of regionals and succeeded immensely. In fact, the varsity team scored eighteen points taking second place at regionals. They also achieved one of the greatest accomplishments for Adams tennis.
Following regionals, the team then qualified for states. On Friday, June 1st, the excited tennis players packed their bags and headed for Midland, Michigan to compete in states.
At states, the competition was fierce and unstoppable. Senior Kate Roberts and junior Helen Dong led the team playing first and second doubles, scoring a plentitude of points for Adams. Unfortunately, the team did not score enough points and placed eighteenth out of twenty four teams. Even though Adams did not rank high they did beat Stoney Creek and beat their state's record, which is a significant accomplishment.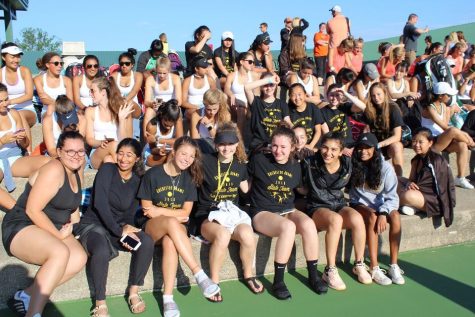 "I had a great time with my tennis gals at states! Although we did not win, we tried our hardest, got closer as a team, and most importantly beat Stoney's record at states! Can't wait for what's to come next year," said junior Claire Sanford.
On a positive note, the opportunity of states allowed the tennis team to grow a closer bond with one another. Additionally, they purchased matching T-shirts to sport at the meet and roomed together at a hotel. Evidently, the athletes ended up having great and valuable time at state's.
"I am so proud of my team, everyone improved so much throughout the season. This team deserved to go to states more than anything. I am excited for what they will bring to the table next year," said Adams Varsity Tennis Coach Greg Burks.
Adams Varsity Tennis is extremely proud of their well deserved accomplishment of both going to states and their season as a whole. They represent Adams to its fullest potential by proving that winning is not everything. The spirit and pride they carried with them to and from states is looked upon in a prestigious manner and they will continue to rise to any challenge given.