Student Spotlight: Owusu Poses Double Threat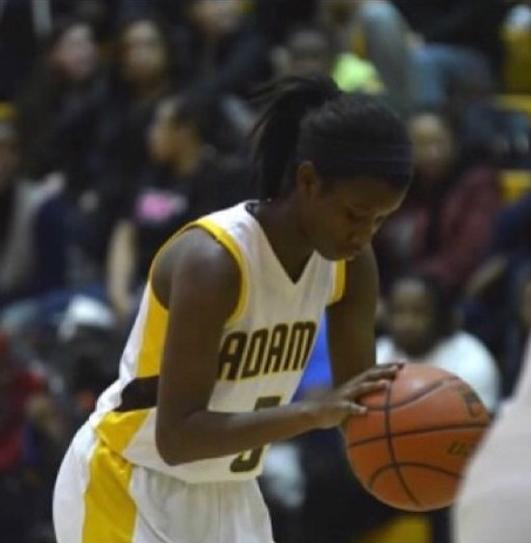 Ryian Owusu, who recently committed to play soccer at Western Michigan, has taken over girls' athletics by storm in her time at Rochester Adams. Playing varsity soccer and basketball for four years, Owusu is a dual threat who can take over the game in both sports.
    1. What will you remember most about playing multiple sports at Adams?
RO: All the memories I made with my teammates, and being a part of a team environment that allowed me to meet a lot of new people.
    2. Have you been voted a captain by your teammates here at Adams?
RO: I will be a two-year captain for basketball including this season, as well as a captain for the soccer team.
    3. Are basketball and soccer the same when you compare what your teammates expect from you every game?
RO: Absolutely. Both teams expect me to be a leader all season, and to build them and give them confidence when they need it.
    4. What are some goals you set for yourself in both sports?
RO: In basketball, I want to try and make the all-league team. My main goal is just to continue to improve my skills throughout the entire season, and help my team whenever I'm called on. In soccer, I want to make the all state first team and the dream team; that has always been a huge goal I want to accomplish.
    5. What are you looking forward to as you progress towards a division one level of competition?
RO: I am most looking forward to continue playing the sport I love. I also want to continue meeting new people while still being involved in a team environment.
    6. Do you enjoy being the player that everyone looks to when in need of a big play to spark the team?
RO: I love pressure. Performing under pressure is enjoyable, and it helps me get ready to get to play college soccer, and at the division one level, every game involves pressure.
    7. What is your favorite part of being involved in athletics?
RO: Most of all, I enjoy hanging out with my teammates and creating a family that shares an unbreakable bond.
    8. What do you want your legacy to be when your athletic career ends at Adams?
RO: From day one, my goal has been to try and be the best athlete to walk through these halls. There have been so many amazing athletes at Adams, and I want to be right at the top.
While watching watch sporting events at Adams, keep an eye on Owusu; she is an athlete that will make her presence known in all facets of the game.