Cross Country Star Runs Towards Bright Future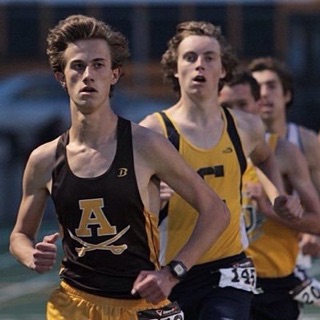 It is difficult to come across an athlete who is more passionate and driven than Matt Schram; the senior somehow manages to make his impressive numbers and countless hours of training and competing in cross country look like a walk in the park.
Throughout the four years he has spent on the team, Schram has earned countless titles and awards commending him for his dedication to the sport. He has earned three All-State titles thus far, and is expected to earn a fourth at the conclusion of this season. Currently ranked third in the state of Michigan with an all-time best of 15:14.0, a national title for this year could be in Schram's future.
His natural talent is not something he takes for granted. "I'm lucky enough to say I've been on varsity since I was a freshman as well as a state qualifier since I was a freshman," said Schram.
In 2013, Schram finished his first-ever State Championship meet with an impressive time of 16:31.0, ranking ranking him as the second fastest freshman in the state as well as the fastest freshman to ever attend Rochester Adams.
Although Schram possesses an innate gift for the sport, his accomplishments and improvements in cross country could not have been achieved without the aid of hard work.
Despite being injured throughout some of his sophomore season, Schram came back faster than ever for his junior year. He managed to drop 45 seconds from his freshman year record, tying Stephen Biebelhausen for the fastest junior in the school with a time of 15:46.0
Schram has come back even faster for this season. Though faced with an injury early on, Schram recovered quickly and is back, ready to compete.
"I did have a pain in my thigh just before the Budd invite and so I went to a doctor to make sure I hadn't broken my femur," Schram said. "I had a week of biking just as a safety precaution. But the bone scan came out clear and I was back running pretty fast after that."
Schram was unable to participate the first few meets of the season due this injury, but he managed to make it back to the team in time to steal first place in the first league meet of the season at Lake Orion on September 12. Running a time of 16:19.4, he easily set the season record for the Adams' boys team right off the bat. Though he was less than a minute off of his best time, Schram was not as impressed with this performance as his peers.
"I'm still never going to be happy with my time, just like any other runner would. I'm always looking to get faster and stronger, but I'm progressing," said Schram.
"Matt is more focused this year and still the fastest runner on our team," said head cross country and track coach Eric Lohr. "He still shows leadership and sets a serious tone like he has other years."
Coach Lohr is not the only one watching Schram's progression. As expected, many colleges have been reaching out to Schram, hoping to recruit him for their team.
"I am looking at University of Michigan, Michigan State University, Oakland University, and University of Nebraska," said Schram. "Grand Valley State University fell out of the runnings for me.  I don't know where I'm going yet. I still have to complete some official visits, but Nebraska and Oakland tend to keep a constant pull on me."
Schram has accomplished great feats so far in his running career, however, he will be the first to admit that he could not have attained his goals all on his own. "I would not be where I am without my coach and my team," said Schram. "They are a big part of everything."
Two-thirds of the way through his final cross country season at Rochester Adams, the future shines bright for a devoted and determined Schram.
"He is looking at big ten schools and is contending for a state title this year," said Lohr. "He is constantly challenging himself."