Student Spotlight: Ben Patton, Bowling Green Commit for Two Division I Sports
Have you ever been to any college sporting event? If so, the dedication and efforts put forth by these student athletes is incredibly evident. Any sport at the college level takes extreme commitment and determination. Senior Ben Patton from Rochester Adams High School has recently committed to Bowling Green State University to play division I football and baseball. After years of hard work and training, Patton has excelled in both sports to become a multi-sport college athlete.
Q: When did you start playing baseball? When did you start playing football?

A: I started playing baseball at 5 and football at 6.

Q: What is your goal for playing baseball at Bowling Green?

A: To be a great teammate and make the team better any way I can.

Q: Why did you become a kicker?

A: I became a kicker because my parents bought my brother and I a holder and a block for Christmas one year.

Q: What teams have you played for in the past? Also, what positions have you played?

A: For football I played running back and linebacker in the Rochester Redskins organization for 7 years. For baseball I played little league through when I was 11, played for the Oakland Whitecaps for 2 years, Oakland Eagles for one and the Oakland Bulldogs for the past four seasons.

Q: What is your favorite thing about baseball and football?

A: They're team sports; there's no better feeling than playing for something greater than yourself.

Q: What is your favorite thing about Rochester Adams football?

A: The tradition.

Q: Favorite thing about Adams baseball?

A: Going out and competing with the guys I've played with since before I can remember.

Q: What was your most memorable/favorite football game?

A: Farmington Hills Harrison my senior year. I hit my career long field goal, had my best punting game and beat the best coach in MHSAA history!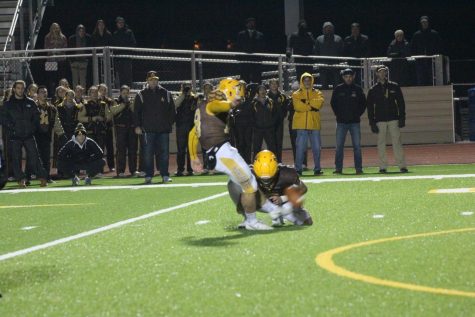 Q: What are your hopes for your two upcoming seasons as a college freshman?

A: Develop as a player and a person. Also, be prepared in case I'm needed to make an impact as a true freshman in either sport!

Q: Why did you choose Bowling Green? What stood out to you?

A: I chose Bowling Green because of the tradition, opportunity to play both sports, but more importantly, their strong business program!

Q: What do you want underclassman at Adams to remember you as?

A: Someone who worked hard on the field as well as in the classroom.

Q: What do you want to accomplish during your college career?

A: I want to grow as a person and be the best student and athlete I can be. I also want to play a role in bringing a winning culture back to BG as well as win multiple MAC championships in both football and baseball!
Ben Patton is a perfect example of a true highlander. His hard work, drive, and initiative have led him on the path to do amazing things at the college level. Rochester Adams High School is proud to showcase Ben Patton as he pursues his dream of playing both football and baseball for Bowling Green State University.