Student Spotlight: Bailey Pease Rows Her Way To MSU
Bailey Pease is known at Rochester Adams High School for her outstanding volleyball skills, but next year she will be known at Michigan State University for a completely different sport. The senior captain of the Adams girls volleyball team has recently verbally committed to join the Michigan State Women's Rowing Team to continue her academic and athletic career. With her passion for teamwork and determination she gained from playing volleyball, Pease was ecstatic to be able to pursue those very passions in a new sport at her dream school. 
Q: How did you first hear about crew at Michigan State University?
A: "To be honest I had no idea what crew was until the assistant coach for the MSU rowing team approached me at a volleyball tournament. She came over, talked to me, and gave me her business card for information. She told me I would be a perfect fit for rowing. The next day I called her; she provided me with more detailed information about the team, and I looked further into it," said Pease.
Q: What was your initial reaction to the rowing offer you received?
A: "At first, it never crossed my mind that rowing was a varsity sport or that rowing would be something I would ever try. My parents and I would even make occasional jokes about it and I honestly never thought it would be something I would ever do until recently," said Pease.
Q: How did playing volleyball lead to scouts looking at you for crew?
A: "Scouts often come to volleyball tournaments because girls are tall, athletic, and usually outgoing which is qualities they look for in rowers. So the average qualities that most volleyball players have attract colleges who are in search of rowing recruits," said Pease.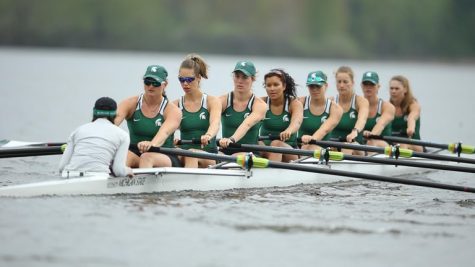 Q: What did you debate when considering your rowing offer?
A: "When I had to debate my options, my mom made me make a pros and cons list. On the pros side I listed all of the academic advantages. For example, the tutoring center was something I liked the most. With playing sports in college, I would need to be able to manage my time with crew and studying so the free tutoring would be a huge help. The only thing on my con side was time and hard work. These were my biggest concerns because I want to continue to have good grades and still enjoy college at the same time, but overall I did not want to regret anything," said Pease.
Q: What were the major factors that influenced your final decision?
A: "My parents never influenced me either way; it was completely up to me. When I finally decided to commit, it was mainly because I didn't want to look back when I'm older and see an opportunity I could have taken and didn't take it," said Pease.
Q: Do you have any worries or concerns playing a sport in college?
A: "The only worries I with playing a sport in college is time commitment. I have concerns that my grades might drop with the harder courses in college and managing the time between crew and academics. However, with the tutoring center and extra help I am confident that this will help decrease the amount of problems I may have between my sports life and student life," said Pease.
Q: What are your hopes and excitements for being apart of MSU crew?
A: "With committing to the MSU crew team, I hope to make lifelong friends and enjoy learning a brand new sport. It would also be amazing to win a Big 10 race against Division I schools. I'm so excited for the opportunity to be a part of a great athletic atmosphere and support Michigan State, my dream school, at the same time. Go Green!" said Pease. 
Overall, Pease is ready to take on a brand new sport and continue to thrive both athletically and academically at Michigan State University. Even though she was not aware of the sport of rowing initially, or ever thought of it as an option for herself, she is determined and hopeful to have as much success within the sport as possible. Additionally, Pease had her worries cleared about time management between the balance of school and sports and is confident that this commitment will be a great fit in the long run. Pease represents a great example that anything can happen and advises people to live without regret by taking chances on rewarding opportunities that come one's way.