Rochester United Hockey 2019-2020
The Rochester Falcons and Rochester Highlanders share one of the biggest rivalries in the county. The two schools' hockey rivalry, however, is especially intense.
Rochester United started the season with a tough game against Grosse Pointe South. Sophomore Finn McCaughtry scored a goal to tie up the game 4-4 for RU. Shortly after that, RU struggled in the penalty box with the third period, ending up in a loss, with a final score of 7-4.
 On Friday, November 22, RU played its first home game of the season against Marquette, looking to better their 0-1 record. Marquette made the seven-hour trip from the Upper Peninsula for the game.
"We're very excited for this game. It means a lot early in season, and we want to start the season off well," said Finn McCaughtry, leading up to the game.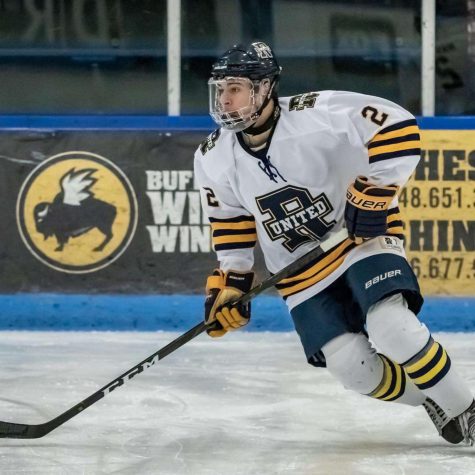 Early on in the first period, Marquette took a lead of 2-0. As the action-packed game advanced, RU was set up with a power-play that they desperately needed to advance on. Sadly, they fell short in the second period again, as the score was 4-0. RU fought a hard and relentless battle against Marquette, now 1-0. RU now stands at the bottom of the Oakland Activities Association with a record of 0-2. However, with no divisional losses, that record can be changed quickly. 
"We had a rough start, but we are trying to improve every day. We're excited to continue the season strong and need to have the right mindset going into the next game," said junior Brendan Santo.
The RU players keep their heads up as they have a huge rivalry game against Stoney Creek Wednesday, November 27th. This game would be a great win for RU, the first of both of their first divisional games.