Rochester Adams Signing Day
Playing a sport at the college level takes a lot of hard work, commitment, and extreme perseverance. Rochester Adams High School is proud to represent these 18 student athletes, 9 boys and 9 girls will continue their athletic careers at the next level.
On Thursday April 11th, Rochester Adams High School recognized their senior athletes who have committed to continue their athletics at the collegiate level.
The recognition ceremony took place at 7 am before school in the auxiliary gym. At the ceremony, athletic director, Jason Rapp highlighted each individual athlete and recognized them for all of their hard work and time that each of these student athletes has put into their sports.
After Jason Rapp spoke, many photos were taken to remember these athletes and all of their effort put forth in their sports.
"Adams did a really great job highlighting each individual athlete and all of their accomplishments. Everyone's hard work was greatly appreciated," said Siena Heights soccer commit Emma Grech.
All coaches, families, administration and friends were invited to help celebrate and recognize these hard working seniors as they move forward in the next step in their lives.
"This recognition ceremony is something that I will remember for the rest of my life," said Saginaw Valley State soccer commit Sara Samolinski.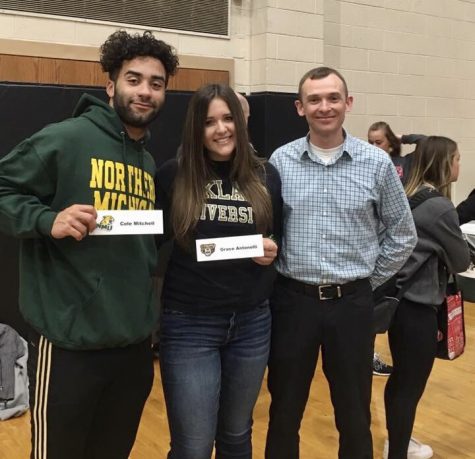 Below each athlete is listed as well as the school that they will be attending:
Jake Schuler – Basketball ( Trine University)
Preston Bowker – Baseball (Macomb CC)
Jack Chermside – Baseball (Furman)
Ryan Rifenburg – Baseball (Muskegon CC)
Jack Bishop – Football (Denison)
Cole Mitchell – Football (Northern Michigan)
Bailey Pease – Crew (Michigan State)
Lexi Boladian – Lacrosse (Univ. of Montevallo)
Will Ronan – Lacrosse (Bryant University)
Mary Nash – Softball (Baldwin Wallace)
Emma Grech – Soccer (Siena Heights)
Sara Samolinski – Soccer (Saginaw Valley)
Jake Hart – Swimming (Grand Valley)
Lisa Lohner – Swimming (Toledo)
Valentina Rengifo – Swimming (Univ. of Maine)
Ashley Rill – Volleyball (Kalamazoo College)
Grace Antonelli – Track/Field (Oakland Univ.)
Rochester Adams High School is not only known for its academics, but also for its athletics. These student athletes positively reflect on the school as a whole, as they strive to become the best in everything they do. Adams High is proud to send off these hard working seniors into the next stage in their life as they work to become successful college athletes.