Rochester Adams Fourth Quarter Comeback
The Rochester Adams boys football team made an amazing comeback against the Clarkston Wolves 28-27. 
This was the last home game of the regular season for Rochester Adams High School, as they took on Clarkston. The Highlanders are currently 5-2 overall and third in the Oakland Athletics Association Red League. The Wolves scored an opening touchdown to give them the lead, followed by a field goal, which concluded the first half of the game 10-0. 
Senior Anthony Patritto commented on the game's high stakes when asked if he felt any pressure going into his last home game at Rochester Adams. 
"Yes, because if we win our last three games, we get another home game in the playoffs. So we wanted to keep the chance of another home game alive," said Patritto.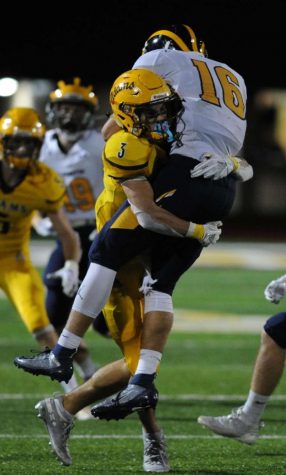 During the third quarter, Clarkston's lead increased by a field goal, making the score 13-0. The Highlanders were not ready to give up yet. Senior quarterback Carter Farris threw a 49-yard touchdown to senior Nick Picot with the extra point kicked by senior Derek Larson. A few moments later, Clarkston fumbled the ball, and it was picked up by Adams senior Andrew Shankster. During the next possession, Farris threw a touchdown pass to Patritto, which gave Adams the lead 14-13. Although they fell behind for the first time, Clarkston did not back down. The Wolves scored the next 14 points giving them the lead 27-14.
Later in the fourth quarter, Patritto scored another touchdown, fueling Adams' comeback. A few plays later, Farris threw a pass to Picot for his second touchdown giving the Highlanders the lead 28-27. The Wolves had a chance to score and take the lead again, but their run came to a close as Adams senior Logan Sayre intercepted a pass to secure the Highlanders' win. After the game, Farris shared his thoughts on the comeback.
"It felt great and was very exciting; we really worked hard for this win," said senior Carter Farris.
After the game, students from the Highlanders "Gold Rush" student section congratulated the football players on the field. Many senior students at Rochester Adams described this game as one of the best Friday night football games they have ever experienced at Adams.
The Highlanders will take on Southfield Arts and Tech on October 18th, and Stoney Creek in their final regular season game on October 25th.