Rochester Adams Football: Playoffs?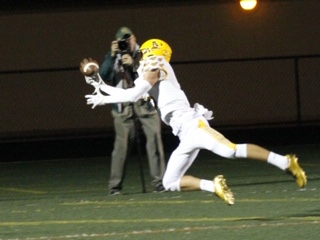 Last Friday night's win over Harrison High School pushed the Rochester Adams Varsity Football team into the running for playoffs. The 2018 team has faced a season with many ups and downs, and attempting to play up to the elite level of the 2017 varsity team has only made the season harder. During the summer workouts and practices, the Highlanders seemed able to live up to their previous achievements with the expectation of a close game against Rochester High. After Adams won during the last play of the game due to an unlikely drop by a Rochester athlete, Adams finally received a wakeup call.
After a heartbreaking loss to Lake Orion High School, and two more losses against Clarkston and West Bloomfield, the realization that the season would not be as easy as the year before finally hit the Adams' boys. Winning against Harrison in week six became crucial.
"The urgency to win this game wasn't so much to kill the other team, but to keep in mind that if we lose, we don't make playoffs," said Head Defensive Coordinator, Coach Mark McFarland.
These boys went into last Friday's game on fire with an early 17-0 halftime lead. Heading into halftime, the Highlanders were feeling good but knew that Harrison would not give up in the second half. Harrison came out strong, scoring two touchdowns and kicking a field goal with two minutes left in the second half, tying the game. Adams received the kickoff and proceeded to run the ball to the five yard line. Junior quarterback, Carter Farris, threw a five yard touchdown to senior receiver Jack Bishop.
"Bishop made an unbelievable one handed catch," said junior Anthony Patritto.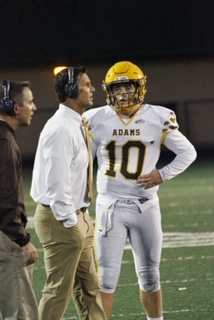 Friday night's win was big for maintaining Adams' playoff chances but they still need to play well in their last two games in order to guarantee themselves a spot.
UPDATE:
Since the time of the Harrison game, Adams has gone on to win their past two games against Southfield High School and cross-town rival Stoney Creek High School, beating Southfield 24-17 and Stoney Creek 17-3. These two wins helped Adams advance to State Playoffs where they are scheduled to play White Lake Lakeland High.