RAMS Win First Playoff Game in a Shutout
After a tough 5-11 season for the Rochester Adams men's soccer (RAMS) team, the first regional playoff game against cross-town rivals Rochester High School was a must-win. Coming into Rochester's stadium with high hopes, Adams put on show and beat them 2-0 with an early header goal and a late cheeky goal in the final minutes.
"We came into the game with high hopes and we performed to our best ability which I think is the main reason we won," said senior Jack Wardle.
Adams looked much more fired up than Rochester from the initial kick-off. Some of Adams key players are the new foreign exchange student Bruno Escobar, who is a talented forward with excellent ball handling skills, sophomore Merrick Delvin, who is extremely good at finding open passing lanes, and Nick Kochanski, who is blazing fast and is a great finisher. 
It started around half way through the first half, around the seventeenth minute, when sophomore player Colin Rase kicked a perfect corner straight to senior Jack Wardle who finished the goal with a top-shelf header and made it 1-0. The final 15 minutes of the first half was scoreless leaving the game 1-0 going into halftime. 
Adams came out fired up for the second half. The second half was calmer than the first half with less shots, messier passing, and missed opportunities. Late in the game, around the 15 minute mark, Rochester got a corner kick, and the players were pushing hard to score the tying goal. The corner was sent in and from that point and the next 45 seconds, there were eight shots within five yards of the box; with multiple goalie saves, body saves, and even two saves from Adams players heads!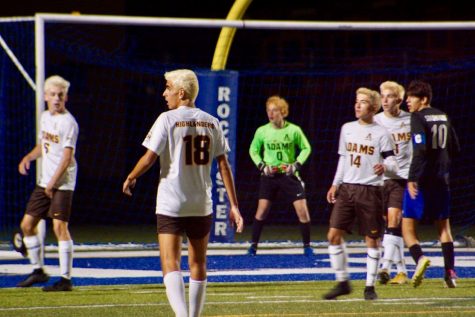 This was almost the game icing moment because it killed Rochester's hopes of scoring. With about two minutes left, an Adams defenseman sent a ball deep upfield that was perfectly pursued by senior forward Nick Kochanski. Kochanski then had a one-on-one with the goalie where he chipped the ball over the goalie's head to ice the game at 2-0. The game then played out for the final minute and ended 2-0 Adams. This game sent Adams to Stoney Creek High School to play the Romeo Bulldogs in the regional semifinals on Monday, October 14th.        
"It was one of the most memorable games of my high school career and the loud student section had us fired up the whole game," said by junior Colin Rase.
Adams players hope to make it through the regional round into the state playoffs at a shot of winning the state championship, but there still is a ways to go. RAMS UP!