RAMS Victim to the Clarkston Curse
The Rochester Adams Men's Soccer team (RAMS) have had a rocky road in Districts throughout the past couple of years. With an intimidating reputation of State Finalists and State Champions under their belts, one would assume only the best from the Adams boys. However, in the past two years, the team has been booted out of Districts in just the first round, both times against Clarkston High School. This year, the boys have been fortunate enough to be paired against the Oxford High School Wildcats in hopes of breaking the "Clarkston Curse."
In their first game against Oxford, the boys managed to pull a 3-0 lead with all goals scored by senior Parker Raymond. RAMS pushed ahead within the first few minutes of the first half, frightening the Wildcats into submission and an uneventful game for the school.
The Highlanders' confidence was at a high after finally making it past the first round of Districts since three years ago. They prepared to play another one of their major rivals, the Rochester High Falcons in the District semis. After an intense 90 minute game, the RAMS toppled the Falcons 1-0, with a goal scored by Raymond off a throw-in by senior John Stevens. Along with the goal to secure the boys' District finals spot were three red cards from the heat of a cross-town rivalry.
"It is really cool to finally go deeper into Districts than just the first round. I think we can beat Clarkston and take home the Districts trophy," said senior defender Kelton Schultz.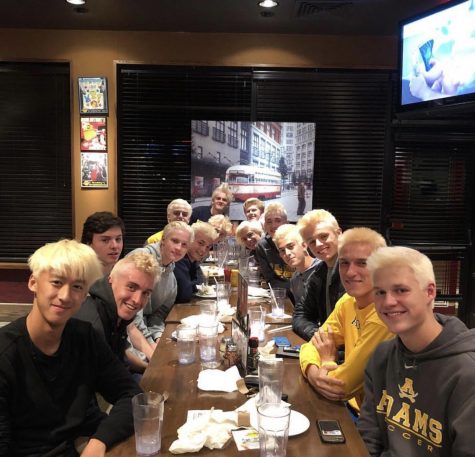 Following round one of Districts, RAMS prepared for a match against the Clarkston Wolves. Earlier in the season, the Highlanders beat Clarkston in a close match. The District finals could be either team's game.
In previous years, the Adams boys failed to perform in their game against Clarkston as the Wolves have continuously outscored them. In their game on Saturday, the boys' worst first became a reality.
After 90 minutes of tough plays, the Adams boys fell victim yet again to the Clarkston Curse, losing the game 0-2. Both goals were scored from a positioning miscommunication and a simple defending mistake. The Highlanders just did not have their heads in the game and it is unfortunate for the team to have to end another season at the hands of the Clarkston Wolves.
"I am going to miss playing with my teammates. We had a great season and it is really sad to finish it like this against Clarkston… again," said senior defender Tim Greiss.
It is always somber to finish a season with an unwanted and unexpected loss. Unfortunately it is the seniors' last year as RAMS, but they will always remember the high points of their final season.