RAGSD One Step Closer to a 5-peat
This past Thursday, Rochester Adams Girls Swim and Dive competed against Birmingham Seaholm, one of the best high school teams in Michigan. These two schools, both packed with a plentitude of strong, talented individuals, faced off in an unpredictable meet which could determine the dual meet champion of the league. For Adams, the goal of this year is to defend their 4-time league title and possibly bring home a 5th, and as the girls like to call it, "5-peat."
In a night of back and forth excitement and all-out racing, a final relay determined a 4-point win for RAGSD, bringing them one step closer to the title they have been working for since early August.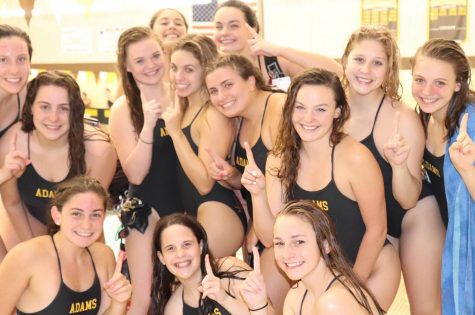 "My heart rate went through the roof and I was so happy to know that we were one step closer to 5-peating," said senior Emily Goodman.
For swimmers like Emily who are embarking on their fourth year as a part of the Adams team, a win like this really set the bar for the season. Training nine times a week, these girls have worked about as hard as any high school athlete could. With such a tough meet this early in the season, a one hundred percent effort was crucial.
It was not until the last few minutes of the meet that the girls knew the score was neck and neck. In the final race of the evening, the 200 freestyle relay, Adams was up by 8 points and knew they needed to score some points to stay ahead. As a screaming crowd jumped up and down in excitement as the race came to a finish, Seaholm touched first, as expected, and Adams touched soon thereafter. But it was not a first place relay finish that Adams needed to win the meet. It was a third place touch that would determine who would walk away as champions, and in a panic of utter speed, Adams' sophomore Allie Danko slammed into the touchpad just in time to get the points Adams needed.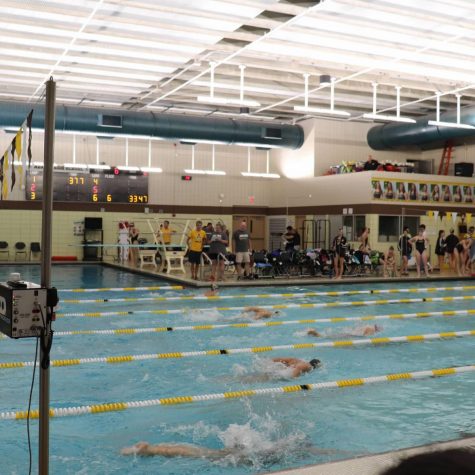 "When I heard the score, I looked at my teammates, who were all crying tears of joy, and I started crying too. RAGSD always gets it done, and being on this team reminds me of why I love to swim," said junior Fernanda Camacho.
Though this meet does not really guarantee any sort of title, winning against a big rival is just what Adams needed to get motivated for upcoming meets. Rising to the occasion is what RAGSD does best, so hopefully, they will keep up the hard work and remember to swim not just with their bodies, but with their hearts.