Michigan Throttles Michigan State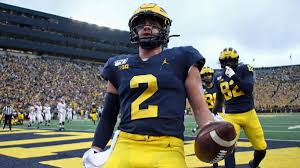 One of the biggest rivalries in all of college football took place on November 16th, 2019. The University of Michigan Wolverines facing off against the Michigan State University Spartans. This rivalry has dated back to the beginning of the schools' football programs.
This game has always been an important one for both teams because it is late in the season and can determine which bowl game each team will be playing in. Of the 111 meetings between the two teams, Michigan leads the series 70-36-5.
Michigan State struck first and early with a touchdown. They were able to hold the Wolverines to a goose egg the rest of the quarter. Michigan was furious, and came back with 17 unanswered points in the second quarter. This put the Wolverines up 17-7 at the end of the first half. 
The third quarter came and went, with the Wolverines scoring just 10 points. However, Michigan was able to hold the Spartans to a field goal and grew the lead to 27-10. Michigan sealed the deal with another 17 unanswered points to beat Michigan State and move their overall record to 8-2.
The loss brings Michigan State to 4-6 and with only two games left in the season; they have to beat Rutgers and Maryland if they want to play in a bowl game. 
Michigan State fan Zack Gross said that "Both games should be an easy win for the Spartans, but with they way they have been playing, they might choke one of the games. Rutgers should be the easier of the two, but Maryland I am worried about."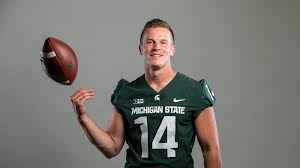 On the other hand, Michigan is 8-2 with the win, which puts them safely in a bowl game. Their sights are set on the College Football Playoffs, but Ohio State stands in their way, and they are looking unstoppable this year. Some Michigan fans doubt the Wolverines ability to beat the big rival.
"I would not bet a dime on U of M. If they played this game 10 times, Michigan would lose 10 out of 10," said Taden Buck.
It is just a matter of time before Michigan plays Ohio State, and with Michigan coming off a strong win against MSU and Ohio State playing to keep their spot in the College Football Playoffs, it should be a game for the ages.