Making a Splash at States
On Friday March 9, the Adams Boys Swim Team proceeded to states at Oakland University led by coaches Tim Hickey and Steve Larson.
After winning league championships, the boys were more excited than ever to go into states. The boys continued to practice for what they hoped would be an amazing last swim meet of the season. Before the meet, a few boys chose to make the bold and comical move of getting a haircut, which was a big statement at school and throughout the swim meet.  
"We really had no reason to cut our hair; it was just for fun," said junior Jake Hart.
During any championship meet, the competition is one of the most important parts of the high school career. However, the boys had a rough meet because they did not quite achieve what they had hoped to. Although the meet was not as great as they expected, there was some excitement with the victory of breaking two records in the 400 meter freestyle and 200 meter medley relay.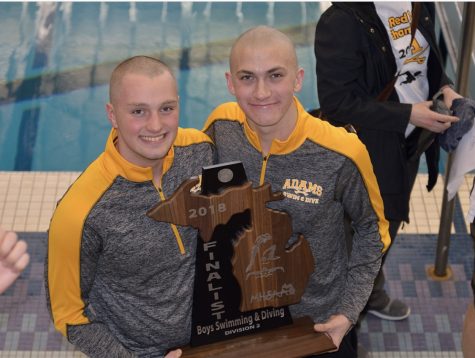 "The last meet of my high school career was not what I quite expected; I thought we would accomplish more throughout the meet, but overall it was an amazing way to finish my last year of swimming for Adams," said senior Jorge Roman.
For other male swimmers like Roman, who have been devoted to the team for most, or all of their high school careers. The meet was quite an accomplishment for the swimmers. Even though the meet was a tough battle between the teams, they still accomplished amazing goals and broke many year old records.
At the end of any competition, the tension is high awaiting the results to be announced to the anxious competitors. The boys were declared to be the runner-up state champion finishers, which was an amazing accomplishment against their tough competitors. Needless to say, the team put in amazing work throughout the season, day in and day out. The boys will continue to become a fierce competition for meets to come.