John Hall Resigns as Coach, Leaves Tremendous Legacy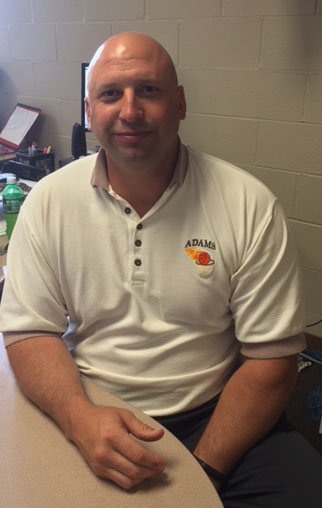 It is the end of an era at Adams High School
John Hall, Head Coach of the Adams varsity basketball team for the past 17 years, has resigned. The 2013 Dream Team Coach of the Year is stepping down to fill the same role at Almont High School, where his children will soon attend.
During his lucrative tenure with the Highlanders, Hall accrued four District Championships, 242 wins, and a .629 win percentage. Hall's sometimes abrasive and demanding coaching style really resonated with a team that wanted to achieve more, so it is no surprise that players were quick to heap on the praise.
"[Hall] was probably the best coach I've ever had. He showed us how being a good teammate was vital to the team's success," said senor David Rinke.
Players appreciated both his experience and his preparedness.
"[Hall] was the most prepared coach I've ever played for. He got the most out of his guys every time and I loved playing for him," said senior BoLineberger.
While many might find Coach Hall a bit demanding, for the players he coached, he was more than a coach.
"[Hall] was very strict. He was a very pressing coach, but he turned us into men, not just players, not just students. He made sure we were well rounded kids," said senior Andrew Dolenga.
Dolenga didn't have to think hard for an example of how Hall had helped him.
"When I came into the varsity program, I was definitely more of a shy kid.He made me realize that if I commanded more respect, I could make a greater impact on the team.He helped me become more vocal and lose that shy part of my attitude."
Hall's impact was easy to see all across Adams, and he had a lot to say about the team he coached for 17 years.
"I've been coaching here for 17 years. I've put my heart and soul into the Adams basketball program. I took my job very seriously and made great connections with a lot of players. It was very, very difficult [to leave]," said Hall.
Coach Hall didn't hesitate to point out what he would miss the most about coaching Adams.
" [I'll miss] the players. For me, the games are great and the strategy and that kind of stuff is fun, but the thing that kept me going for 17 years was the relationships that I was able to develop with all the guys that played for me," said Hall.
It is  fitting, then, that Hall's proudest achievement was the success he achieved with his players.
"We've won more games than almost every other school in the county over the last seven or eight years. And so the fact that we could take this school and elevate it to kind of the elite status in Oakland County is something that I'll be proud of and remember for a long time," Hall said.
Coach Hall did express a possible interest in coming back one day.
"I think that once my kids get older and get out of high school, then anything at that point is fair game. If the circumstances aligned, then it would definitely be something that I would consider again," Hall said.
"Being Head Basketball Coach at Adams was an honor and a privilege for me. Not the fact that I was able to have contact with so many people, but the fact that so many people were  able to touch my life is the thing that I'll remember forever," Hall said.
Hall's time at Adams was unparalleled in his success and impact on both the players and fans. Though saying goodbye to such a respected figure can be tough, Dolenga managed to present the thoughts of the school in one thoughtful sentiment.
"Thank you coach Hall for a terrific 17 years of coaching here at Adams. The impact you made was great. You turned around a program that was not very well known into one of the best teams in the county. Thank you for your work and dedication to the program."