Hard Work Pays Off for Varsity Volleyball Team
The The Rochester Adams Volleyball Team had high hopes in securing their districts spots as the end of their season nears. Under the leadership of head coach, Bridget Harding, the team is now playing in the OAA Red Division. This is the highest level of high school competition possible for all sports.
The volleyball season began in late August, just before the start of the school year. Knowing that it was crucial to get as many touches on the ball as possible, Harding had the girls practicing twice a day, everyday in the summer. These difficult practices were key in setting the tone for the players for the rest of the season.
The beginning of the season looked very promising after dominating matches against challenging teams such as Rochester High, Troy High, and Bloomfield Hills.
"As we played in the highest and toughest division in the state, we have started off strong since beating rivals such as Rochester and Troy. Now we strive to win districts," said senior Julia Shafer.
However, the girls sunk into a three-game-long losing streak. The team worked hard to pull themselves away from this minor setback, continuing to practice every day of the week, pouring all their time and energy into this team.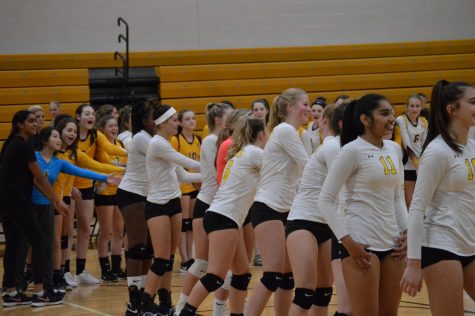 "I am so proud of my team and how hard we have worked this season. Our hard work has really prepared us for districts," said senior captain Bailey Pease.  
For seniors like Shafer and Pease, if they do not advance into districts at the end of the season, their time playing high school volleyball will be done. This season is the class of 2019's last chance to showcase their skill at the high school level. The idea of playing their last volleyball game drives the strong ambition that these girls have to win.
With the season coming to a close, the lady highlanders' hard work and efforts began to prevail. By the end of the season, they went 22-16-6 overall. As of now, they are 3-4-0 in league games. If they continue to maintain the same winning streak as they have throughput the season, their hard work and efforts will carry them all the way to districts.