Girls Volleyball Plays Tough to a Tough Loss
Volley, set, and spike. While the Adams girls varsity volleyball team may not have been able to win the game against Marian High School, at no point in the game were they out of it. They fought until the final second.
"Pretty good game; we fought hard. It was sad that in the end we lost," said senior Annabelle White.
The first game was a close match with Marian taking an early lead, but Adams battled back. Although they played well, it was not enough to take a strong lead since Marian went on a run and won the first game 25-18. After the first lose, Adams looked a little rattled. They were constantly playing catch up against the dominating Marian team who took a strong lead in the beginning.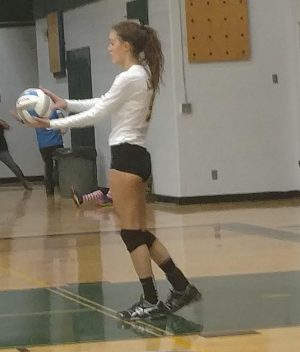 Marian ended up closing it just as strong with a win in the second game 25-18. After being down 2-0, the Adams girls would not go down without a fight. Marian took an early lead, but then Adams rallied, as it remained tied almost the entire game with the lead going back and forth. With a decisive 9 point run to put Marian one point away from winning, the Adams girls pulled it together to score 8 points and come within one point of tying up the game. On the final serve, Adams almost had it but wasn't able to finish the run. Marian was able to score their final point to win the game 25-23.
"It was great getting to the finals as a senior, and even though we didn't win, it was a good way to finish up my last year of playing volleyball," said senior Paige Hedlund.
The Adams team has had an amazing season and while they may not have been able to win the game, they walked away with their heads high for playing a strong match.