Girls' Varsity Basketball: Season Overview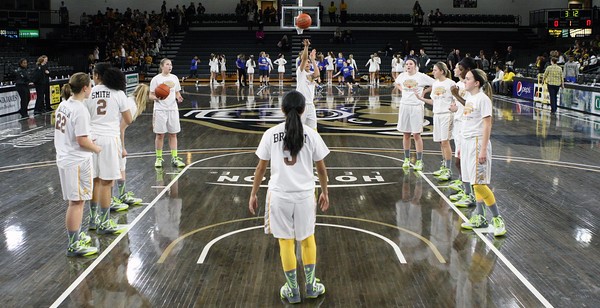 The varsity girls basketball team faced off against the Utica Chieftains on Wednesday, March 3 for the second round of districts. It was a heated battle that ultimately ended in a heartbreaking Highlander defeat. Utica moved on to square off against the Stoney Creek Cougars for the district title on Friday, March 5, while the Highlanders' season came to an end too soon.
Although the girls' season did not end the way they hoped, there was no denying they came a long way in the five month season. Starting off with a three-game losing streak, the Highlanders began to question their talent and abilities from day one. The girls couldn't help but be discouraged when last year's season began with an incredible 9-0 winning streak. Their fourth game against Royal Oak Shrine was crucial; they needed a win in order to build up their poor record.
After successfully defeating Shrine, Highlanders were desperate to continue racking up the wins. However, their hopes were dashed the very next game when they were beat by the Oxford Wildcats. The team and coaching staff were perplexed. Why did they continue losing to teams who weren't nearly as skilled, athletic, or conditioned? Something needed to change, but no one seemed to know exactly what.
The season continued much the same way throughout December and January, with the losses piling up and the wins few and far between. After losing to the Lake Orion Dragons, head coach Shay Lewis had had enough and reached the breaking point. She told the team that she would not continue into February with the lack of effort and heart displayed by the team so far in the season. If they weren't willing to work harder and "play for each other, not as individuals," it was time to turn in their jerseys. It was then the girls realized it was time to get it together. They needed to play desperate, as though each game were their last.
February was their month. Win after win, they were out for blood. Dominating the teams whom they had previously lost to, the Highlanders eliminated every doubt regarding their talent and will. They went 6-2 in February, losing only to state ranked Southfield Lathrup and Harrison High School.
There is no doubt that February was the peak of their season. Unfortunately, as soon as March hit, it was like they were back in December; losing to yet another team they should surely have beaten. However, unlike regular season games, district losses don't come with second chances. Following the loss against Utica, the Highlanders' season came to a devastating close.
It's obvious the girls' season did not end the way they wished, but the girls overcame a lot of adversity. They were written off by the press, other teams in their league, and even their own student body because of their losing record. The Highlanders' record, though, was not a reflection of all the sweat and tears they shed throughout the season. They were the true embodiment of a team – always picking each other up, dusting each other off, and showing up to practice the next day ready to work.