Girls Lax Takes Care of Business
After a disappointing cancelation of their season in 2020 due to covid, the girls lacrosse team was more than ready to come out and play this year. In the off-season, the girls participated in conditioning and weekly practices that helped prepare them for when they could finally step back onto the field. After starting their season with a loss against Midland, they were fired up for their games this week against Rochester and Royal Oak.
Highlanders do not accept losses from crosstown rivals, and the girls lacrosse team takes that very seriously. Not losing to the Falcons in over five years, the team had a strict game plan set in by their coach, Aly Rosenau, to ensure a victory.
The girls perfectly executed this game plan and took home the W, with a score of 10-7.
"Beating Rochester this week was really exciting, and it is always fun coaching against my old coach, Dave. He taught me a lot about lacrosse and pushed me to be the player I was and the coach I am now. My team worked very well together on the field. There were several assists, good passing, communication, and ball control throughout the entire game. I was really proud of their teamwork and how they support each other on and off the field during a game," said Rosenau.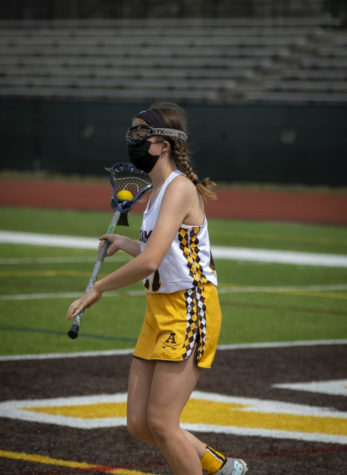 Leading scorers of the night were senior Lindsay Kania with four goals and junior Kate Kramm with three.
"It felt amazing to beat our rival right after a big loss. It brought our team's spirits up and made playing the game that much more fun," said senior Lindsey Thomas, when asked how it felt to beat the Falcons.
Following the exciting Rochester game, the team had to bring the same energy for their next competition, Royal Oak. Executing the same game plan as before, the Highlanders were prepared for whatever was coming their way. 
With a score of 8-3 at halftime, they were right where they wanted to be. Outstanding performances by junior Becca Rolling and senior Catherine Walsh led the team to victory. The final score of the game was a shutout, 15-5. Great job Highlanders!
Stay tuned for upcoming games to support the Lady Highlanders.